Big Mike & DJ Envy - MySpace Massacre Vol. 1
Submitted by mfizzel on Mon, 03/13/2006 - 6:33am.
General | Big Mike | Mixtape Torrents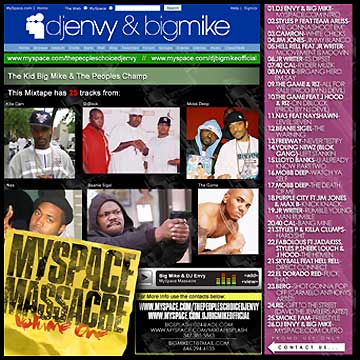 Big Mike and DJ Envy collaborate to show off their online forces on this official mixtape to promote the launch of their MySpace.com profiles. These two exclusive-heavy DJs bang out crazy new hip-hop flavor from coast to coast, including new joints from Cam'ron, Nas, Game, Beanie Sigel, Freeway, Lloyd Banks, Mobb Deep, Fabolous, Jadakiss & Fabolous, Styles P and the entire Dipset (Juelz, Jim, J.R., .40 Cal, Max B, Hell Rell).
1 - DJ Envy & Big Mike - MySpace.com Intro
2 - Styles P feat. Team Arliss - We Gonna Shoot Em
3 - Cam'ron - White Chicks
4 - Jim Jones - Jimmy Blanco
5 - Hell Rell feat. J.R. Writer - Moovement Is Moovin
6 - J.R. Writer - Its Dipset
7 - 40 Cal - Ryder Muzik
8 - Max B - Birgang Herd Em Say
9 - The Game & Riz - All For Sale (produced by NJ Devil)
10 - The Game feat. J-Hood & Riz - On Dblock (produced by NJ Devil)
11 - Nas feat. Nayshawn - Level Seven
12 - Beanie Sigel - The Warning
13 - Freeway - Never Testify
14 - Young Newz (Blok Gang) - Left Stankin
15 - Lloyd Banks - U Already Know Part Two
16 - Mobb Deep - Watch Ya Self
17 - Mobb Deep - The Death Of Me
18 - Purple City feat. Jim Jones & Max B - Knick Knack
19 - J.R. Writer - Rumble Young Man Rumble
20 - .40 Cal - Bang Mine
21 - Styles P & Killa Clumps - Hard Shit
22 - Fabolous Ft Jadakiss, Styles P, Sheek Louch & J-Hood - The Hitmen
23 - Skyball feat. Hell Rell - Direct Connect
24 - El Dorado Red - Fuck That
25 - Berg - Shot Gonna Pop Off (from Carmelo Anthony's new label)
26 - Riz - Gift To The Street
27 - Smoke Fam - Freestyle
28 - DJ Envy & Big Mike - MySpace.com Outro
How To DOWNLOAD