Big Mike - The Diplomats: The Purple Tape
Submitted by mfizzel on Thu, 04/06/2006 - 10:15am.
Mixtape Directory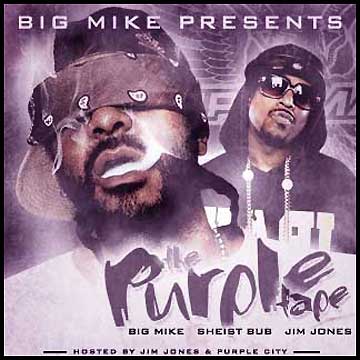 Big Mike is caught in a Purple haze alongside The Diplomats' Jim Jones
and the whole Purple City fam (Shiest Bub, Don Agallah & Un Kasa)
on this crazy Dipset/Purple City exclusive mixtape. With both squads in
the building, this mixtape is nothing but Harlem heat — featuring 32 new
tracks, remixes, freestyles and Purple anthems you're accustomed to..
1 - Jim Jones & Purple City - Birdgang/P.C.P. - Intro
2 - Jim Jones - We Stay Fly
3 - Jim Jones - I Was Gettin Some Head
4 - Purple City, Jim Jones & Max B - Puff My Piff
5 - Kanye West feat. Jadakiss, Styles P, Sheek Louch & J-Hood - Touch The Sky (remix)
6 - Styles P - Bang Niggaz
7 - Hell Rell, J.R. Writer & Chubby - Chitty Bang Bang
8 - Hell Rell, J.R. Writer & Chubby - Welcome To The Kitchen
9 - Jim Jones - Get Em Boyz
10 - Jim Jones - Life's A Gamble
11 - J.R. Writer - Gameface
12 - 40 Cal - Heat
13 - Max B - We Smugglin'
14 - Jim Jones - Ryder Muzik
15 - Cam'ron feat. Hell Rell - Laughing At You
16 - Cam'ron feat. Hell Rell - Its Nothing (remix)
17 - J.R. Writer & Sas - Moove Something
18 - 40 Cal - It's Still Dipset
19 - Jim Jones feat. Mel Murda - Real G'z
20 - Sky Balla & Juelz Santana - Real Talk
21 - J.R. Writer & Street Kingz - In The Club
22 - Jim Jones - Niggaz Gonna Die Tonite
23 - Jha Jha - Huggin The Block
24 - Hell Rell feat. Akon - Mighty Dipset
25 - Purple City feat. Agallah - Love My Piff
26 - Busta Rhymes feat. Swizz Beatz - On My New York Shit
27 - Mobb Deep feat. Riz (David Bling's artist) - Money Make The World Go Round
28 - Smoke & Numbers - Bumpin My Music
29 - Labba, Papoose & Busta Rhymes - Jooks
30 - Flawless - Little Haiti
31 - Slim & Naya - Sugar & Spice
32 - Jim Jones - Connecticut Roll Call - Outro
Props WebZz
How To DOWNLOAD