Big Mike - Power Moves Volume 1 (Hosted By J.R. Writer)
Submitted by mfizzel on Thu, 05/25/2006 - 7:35am.
East Coast | Big Mike | Mixtape Torrents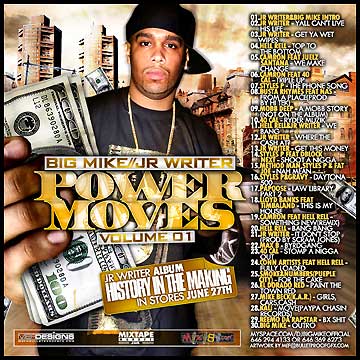 Big Mike is definitely that mixtape cat to align yourself with if you're
on some Power Move sh*t, so that Diplomats freestyle specialist J.R.
Writer is in the building is no surprise. Getting ready to make History in
late June, J.R. stops in to help Mike break new records from the likes
of Cam'ron & Juelz, Busta Rhymes & Nas w/ Hi-Tek, Mobb Deep, .40
Cal, Method Man w/ Fat Joe & Styles, Papoose, Lloyd Banks, Remo.

1 - J.R. Writer & Big Mike Intro
2 - J.R. Writer - Y'all Can't Live His Life
3 - J.R. Writer - Get Ya Wet Wipes
4 - Hell Rell - Top To The Bottom
5 - Cam'ron feat. Juelz Santana - We Make Change
6 - Cam'ron feat. .40 Cal - Triple Up
7 - Styles P. - The Phone Song
8 - Busta Rhymes feat. Nas - From A Place [produced by Hi-Tek]
9 - Mobb Deep - A Mobb Story [not on Blood Money ]
10 - .40 Cal - Ryder Musik
11 - Hell Rell & J.R. Writer - We Bang
12 - J.R. Writer - Where The Cash At?
13 - J.R. Writer - Get This Money
14 - Styles P & D-Block - Shoot A Nigga
15 - Method Man feat. Styles P & Fat Joe - Nah Mean
16 - Styles P & Gravy - Daytona 500
17 - Papoose - Law Library pt. 2
18 - Lloyd Banks feat. Timbaland - This Is My House
19 - Cam'ron feat. Hell Rell - Something New (remix)
20 - Hell Rell - Bang Bang
21 - J.R. Writer - It Don't Stop [produced by Scram Jones]
22 - Max B - Byrdgang
23 - .40 Cal - Stomp A Nigga Out
24 - Conn Artists feat. Hell Rell - Fully Loaded
25 - Smoke & Numbers (Purple City) - For The Cake
26 - El Dorado Red - Paint The Town Red
27 - Mike Beck (K.A.R.) Girls, Cars, Cash
28 - Kali - Move
29 - Remo Da Rapstar - BX Shit
30 - Big Mike Outro
How To DOWNLOAD