Superstar Jay - Destined For Greatness
Submitted by mfizzel on Tue, 07/11/2006 - 7:48pm.
General | Superstar Jay | Mixtape Torrents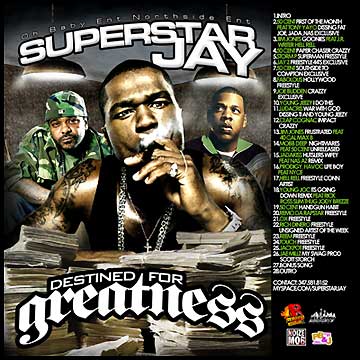 Turn your radio off, turn your TV off, lock your doors and fire up that
piff to his latest hip-hop mixtape banger from Superstar Jay. With an
all-new roster of joints, this mixtape features music by 50 Cent (dissin'
Fat Joe, Jada & Nas), Jay-Z (LIVE), Fabolous, Joe Budden, Jadakiss,
Jim Jones & 40 Cal, Mobb Deep, Yung Joc w/ Rick Ross & Slim Thug,
AZ & Nas, Jae Millz, Nyce, Jeezy, Ludacris, J.R. Writer + Tony Yayo.

1 - Intro
2 - 50 Cent feat. Tony Yayo - First Of The Month (Dissin' Fat Joe, Jadakiss & Nas)
3 - Jim Jones feat. J. R. Writer & Hell Rell - Goonies
4 - 50 Cent - Paper Chaser
5 - Storm P - Superman Freestyle
6 - Jay-Z - 44 Fours Freestyle (LIVE)
7 - 50 Cent - Southside To Compton
8 - Fabolous - Hollywood Freestyle
9 - Joe Budden Freestyle
10 - Young Jeezy - I Do This
11 - Ludacris - War With God (Dissin' T.I. & Young Jeezy)
12 - Clap - Cognac Impact
13 - Jim Jones feat. 40 Cal & Max B - Frustrated
14 - Mobb Deep feat. 50 Cent - Nightmares
15 - Jadakiss feat. Nas & Az - Hustlers Wifey (remix)
16 - Mobb Deep feat. Nyce - Life Boy
17 - Hell Rell - Con Artist Freestyle
18 - Young Joc feat. Rick Ross, Slim Thug & Jody Breeze - It's Going Down (remix)
19 - 50 Cent - Handgun Habit
20 - Remo Da Rapstar Freestyle
21 - Ox Freestyle
22 - Rich Dinero Freestyle
23 - Reem Freestyle
24 - Touch Freestyle
25 - Jackpot Freestyle
26 - Jae Millz - My Swag (Produced By Scott Storch)
27 - Outro
How To DOWNLOAD