Superstar Jay - The Choosen One (Believe The Hype)
Submitted by mfizzel on Sat, 07/22/2006 - 8:19pm.
General | Superstar Jay | Mixtape Torrents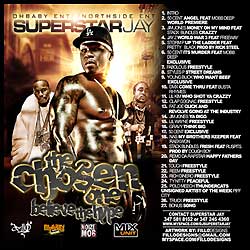 Superstar Jay comes through with a bunch of new and exclusive
Hip-Hop joints. This Jamaica, Queens native drops lots of dope
new tracks and freestyles from major Hip-Hop heavyweights plus
a few joints from some talented up and comers.
This mixtape features all-new tracks and freestyles from 50 Cent
& Mobb Deep, Jay-Z & Freeway, Jim Jones & Stack Bundles, Young
Buck, DMX & Busta Rhymes, Nas & Raekwon, Fat Joe, Remo Da Rapstar,
Lil' Wayne, Fabolous, Clap Cognac & more.

1 - Intro
2 - 50 Cent & Mobb Deep - Angel
3 - Jim Jones feat. Stack Bundles - Money On My Mind
4 - Jay-Z feat. Freeway - World War 3
5 - Storm P feat. Pretty Black - Up The Ladder (Produced by Rick Steel)
6 - 50 Cent feat. Mobb Deep - It's Murder
7 - Fabolous - Freestyle
8 - Styles P - Street Dreams
9 - Young Buck - Who Want Beef
10 - DMX feat. Busta Rhymes - Come Thru
11 - Lil' Kim - Who Shot Ya
12 - Clap Cognac - Freestyle
13 - Fat Joe - Click And Revolve Going At The Industry
14 - Jim Jones - Ya Digg
15 - Lil' Wayne - Freestyle
16 - Gravy - Think Big
17 - 50 Cent - Exclusive
18 - Nas feat. Raekwon - My Brothers Keeper
19 - Stack Bundles feat. Ruspits - Fresh (Produced by Dough Boy)
20 - Remo Da Rapstar - Happy Fathers Day
21 - Touch - Freestyle
22 - Reem - Freestyle
23 - Rich Dinero - Freestyle
24 - TY Nitty - Peaceful
25 - Polo Meech - Thundercats
26 - Truck - Freestyle
27 - Bonus Song
How To DOWNLOAD