Cutmaster C - Make U A Superstar Vol. 1
Submitted by mfizzel on Fri, 07/21/2006 - 3:49pm.
East Coast | Cutmaster C | Mixtape Torrents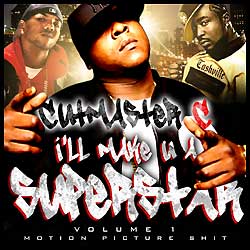 Cutmaster C is known in the Hip-Hop industry to make artists Superstars.
He is on some major Motion Picture Sh*t releasing the first volume in
his new Hip-Hop mixtape series, which features some of dope new and
exclusive Hip-Hop tracks, freestyles and remixes.
This mixtape features new tracks from Uncle Murder & Maino, Ludacris,
Mobb Deep w/ Lloyd Banks & 50 Cent, Young Buck, P. Diddy, Young Jeezy,
Money Cash, Jim Jones & Stack Bundles, Remo Da Rapstar, Rick Ross w/
Game, Fat Joe & DJ Khaled, M.O.P. & more.

1 - Uncle Murda & Maino - Gun With A Body
2 - Young Buck- Puttin In Work
3 - 50 Cent & Mobb Deep- Angels
4 - Freeway feat. Jay- Z- World War 3
5 - Jim Jones, Stack Bundles- Ya Dig
6 - JR Writer- History In The Making
7 - DMX feat. Busta - Comin Thru
8 - Rick Ross, Game, Fat Joe, Khalad-Chevy Ridin (remix)
9 - Ludacris- Tell It Like It Is
10 - Young Buck feat. 50 Cent- Do It Myself
11 - P. Diddy - Gettin Off
12 - Young Jeezy- I Do This
13 - Stack Buindles feat. Riot Squad- Broke The Rules
14 - Money Cash - Freestyle (Lil' Kim's Artist)
15 - Lloyd Banks-Rapstar
16 - Royal Flush- Let Ya Shit Go
17 - M.O.P.- Stop Pushing
18 - Rich Dinero feat. Tone Mac- All I Got
19 - 50 Cent - Freestyle
20 - Mobb Deep feat. Lloyd Banks & 50 Cent-Bitch Get Off Me
21 - 50 Cent - Paperchaser
22 - Runt Dawg - Freestyle
23 - Remo Da Rapstar- Just Say No
**Last 2 Tracks Are Missing**
How To DOWNLOAD