DJ Envy - G-Unit: The Bad Guys Pt. 6
Submitted by mfizzel on Thu, 02/02/2006 - 4:47am.
Mixtape Directory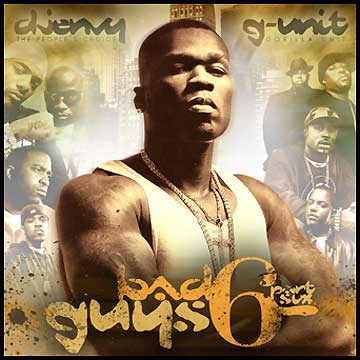 DJ Envy aka. The People's Choice returns with his Bad Guys mixtape
series & he gathers all the latest tracks coming out of the G-Unit camp.
This mixtape has 27 tracks that features new material, freestyles and
remixes from 50 Cent & Paul Wall, Olivia, Spider Loc, Young Buck, MOP,
Nate Dogg, Whoo Kid & Mase, Lloyd Banks, Mobb Deep and Tony Yayo.

1 - Put Themin They Place - Mobb Deep
2 - Wartime - M.O.P. feat. 50 Cent
3 - I'm On It - Mobb Deep
4 - Gang Bang Music - Mobb Deep feat. Tony Yayo
5 - In The Casket - Mobb Deep
6 - Kamikaze - Mase feat. 50 Cent
7 - Get Louder - Prodigy
8 - Have A Party - Mobb Deep feat. 50 Cent & Nate Dogg
9 - Majesty - Whoo Kid feat. Mase
10 - Oh Lord - Young Buck feat. Lloyd Banks
11 - Just A Touch (remix) - 50 Cent feat. Paul Wall
12 - Man Down - Young Buck feat. Prodigy
13 - Talking Sideways - Mobb Deep
14 - From The A Now - Whoo Kid feat. Mase
15 - The Infamous - Mobb Deep feat. 50 Cent
16 - I'll Whip Ya Head Boy - 50 Cent feat. Young Buck
17 - Drama In The Hood - Lloyd Banks feat. 50 Cent
18 - Celebrity Hoes - Young Buck feat. 50 Cent
19 - That's That - Prodigy feat. Alchemist
20 - Known Supplier - Tony Yayo
21 - What's Beef 2006 - Mobb Deep feat. Notorious B.I.G.
22 - I Don't Know Oofficer - 50 Cent feat. Lloyd Banks, Prodigy, Spider Loc & Mase
23 - 718 - Lil' Fame (M.O.P.) feat. Cormega
24 - How The Hell - Young Buck
25 - Well Connected - M.O.P. feat. Blahzay Blahzay
26 - Best Friend (remix) - Olivia feat. 50 Cent
27 - Freestyle - Mobb Deep
How To DOWNLOAD