DJ Rob E. Rob & SP - The Official G-Unit Mixtape
Submitted by mfizzel on Wed, 03/22/2006 - 8:45pm.
East Coast | Rob E. Rob | Mixtape Torrents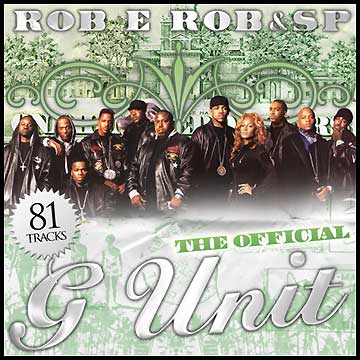 Rob E. Rob & S.P. show you what it's like to be down with the almighty
G-Unit as this mixtape duo brings you more than 80 tracks, freestyles &
club bangers. Bringing you that patented G-Unit sound, this mixtape runs
through classics and recent anthems from 50 Cent, Lloyd Banks, Young
Buck, Tony Yayo, M.O.P., Mase, Mobb Deep, Lil' Scrappy and Olivia...
1 - G-Unit - Intro
2 - Notorious B.I.G. - Interlude
3 - Lloyd Banks - Playboy
4 - Mobb Deep - Put Em They Place
5 - M.O.P - Wartime
6 - 50 Cent, M. O. P - Whip Ya Head (remix)
7 - Lloyd Banks - Southside Story
8 - Murda Mase - Window Shopper (remix)
9 - Murda Mase - Freestyle (Majesty)
10 - Young Buck - Jesus Walk (Freestyle)
11 - Daddy Yankee, Lloyd Banks. Buck_Rompe (remix)
12 - G-Unit Interlude (Money Cash, G-Unit)
13 - Lil Scrappy - Rob E Rob Drop
14 - G-Unit - Snake (Freestyle)
15 - Lloyd Banks, Beyonce - Steppin In Hot
16 - B. I. G - Interlude
17 - Tony Yayo - Know You Dont Love Me
18 - Lloyd Banks - On Fire
19 - G-Unit - G-Unit Anthem
20 - Murda Mase - Sry Mr Pop Off (Freestyle)
21 - Olivia - Twisted
22 - Young Buck, Lloyd Banks - Lean Back (Freestyle)
23 - G-Unit - Stunt 101
24 - Tony Yayo - Pimpn
25 - Tony Yayo - Project Princess
26 - Lloyd Banks - Im So Fly
27 - Lloyd Banks, Avant - Karma
28 - Tony Yayo - Wass Up
29 - 50 Cent - Why U Naggin
30 - 50 Cent - Just A Touch
31 - 50 Cent - Teddy Pendergrass (Freestyle)
32 - Whoo Kid (Interlude)
33 - 50 Cent - Whoa
34 - 50 Cent - Your Not Ready
35 - Tony Yayo - Jamrock (Freestyle)
36 - 50 Cent - Gangsta Music (Freestyle)
37 - Lloyd Banks - Dipset Anthem (Freestyle)
38 - Tony Yayo - Back Then (Freestyle)
39 - Tony Yayo - Side Ways (Freestyle)
40 - 50 Cent - Green Latern (Freestyle)
41 - Tony Yayo, 50 Cent - 187 (Freestyle)
42 - 50 Cent, Tony Yayo - Bitches Aint Shit (Freestyle)
43 - Lloyd Banks - Reebok (Freestyle)
44 - Mobb Deep - Interlude
45 - Tony Yayo - Mind Playin Tricks On Me (Freestyle)
46 - Mase, 50 Cent, Whoo Kid - Skit (Im Callin)
47 - 50 Cent - Stay Surrounded
48 - Lloyd Banks - Threats (Freestyle)
49 - G-Unit - G-Units My Gang Man
50 - 50 Cent - Down Fall
51 - 50 Cent - Down Fall - Interlude
52 - 50 Cent, Justin Tumberland
FUNKMASTER FLEX FREESTYLES
53 - 50 Cent - (Freestyle) Pt. 1
54 - Tony Yayo - (Freestyle) Pt. 2
55 - Lloyd Banks (Freestyle) Pt. 3
56 - Tony Yayo - (Freestyle) Pt. 4
57 - Lloyd Banks - (Freestyle) Pt. 5
58 - Tomy Yayo - (Freestyle) Pt. 6
59 - Lloyd Banks - (Freestyle) Pt. 7
60 - 50 Cent - (Freestyle) Pt. 8
61 - Lloyd Banks (Freestyle) Pt. 9
62 - Tony Yayo - (Freestyle) Pt. 10
ERR
63 - 50 Cent - I'm Not Rich, I'm Still Trying
64 - Lil Scrappy - Interlude
65 - G-Unit - We Dont Give A Fuck About You
66 - Lloyd Banks - 8 Miles (Freestyle)
67 - 50 Cent, Lloyd Banks - Victory (Freestyle)
68 - Lloyd Banks - (Freestyle Dissin Nas)
69 - B. I. G - Interlude
70 - Young Buck - G-Unit
71 - B. I. G - Interlude
72 - Young Buck - Let Me In
73 - Lloyd Banks - Tryna Be A Gangsta
74 - 50 - Cent - Not That Nigga
75 - Juevinile - Interlude
76 - Lloyd Banks - You Already Know
77 - Lloyd Banks - When The Chips Are Down
78 - 50 Cent - Time Flows By
79 - 50 Cent - Porno Star
80 - Young Buck - Shorty Wanna Ryde Wit Me
Props Fliparachi
How To DOWNLOAD