DJ Famous - Lloyd Banks: The Boy Wonder Is Back (Best Of Banks #4)
Submitted by mfizzel on Mon, 05/29/2006 - 10:29am.
East Coast | DJ Famous | Mixtape Torrents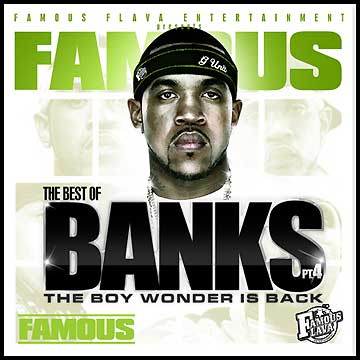 DJ Famous is back on his Lloyd Banks mixtape sh*t, bringing you
the fourth edition of the Best of Banks mixtape series (check out the
others: 1 - 2 - 3). Breaking out new joints from "The Boy Wonder" aka.
G-Unit pitbull, this mixtape features brand new freestyles and tracks
featuring Banks and G-Unit crew (Yayo, 50, Mobb) + Snoop & Busta.

1 - Wait Is Over - Lloyd Banks
2 - My House - Lloyd Banks
3 - Aint No Click - Lloyd Banks feat. Tony Yayo
4 - The Threat Freestyle - Lloyd Banks
5 - Ground With Ya Niggas - Lloyd Banks
6 - The Banks Workout - Lloyd Banks
7 - Stole Something - Mobb Deep feat. Lloyd Banks
8 - If You So Gangsta - Lloyd Banks
9 - Dont Push Me - 50 Cent, Lloyd Banks
10 - Turn U Into A Customer - Lloyd Banks
11 - Its Simple - Lloyd Banks
12 - 70 Bars Freestyle 2K6 - Lloyd Banks
13 - Cake - Lloyd Banks feat. 50 Cent
14 - Touch It (remix) - Busta Rhymes feat. Lloyd Banks
15 - Get Down - Lloyd Banks feat. Prodigy
16 - 6 Figga Nigga - Lloyd Banks
17 - True Loyalty - 50 Cent feat. Banks & Tony Yayo
18 - G Unit Soilders - Lloyd Banks, 50 Cent, Tony Yayo
19 - I Get High - Lloyd Banks, 50 Cent, Snoop Dogg
20 - Im So Fly - Lloyd Banks
21 - Exclusive - Avant feat. Lloyd Banks
22 - Nobody Likes Me - Lloyd Banks
23 - Its O. K. - Lloyd Banks
24 - On Da Low - LL Cool J feat. 50 Cent, Lloyd Banks
25 - If I Could Go - Lloyd Banks & 50 Cent
26 - Fat Bitch - Lloyd Banks & 50 Cent
27 - Dont Even Call Me - 50 Cent & Lloyd Banks
28 - Anotha Dolla - Lloyd Banks
How To DOWNLOAD