DJ Clue - All Stars '06
Submitted by mfizzel on Tue, 02/28/2006 - 7:06am.
Mixtape Directory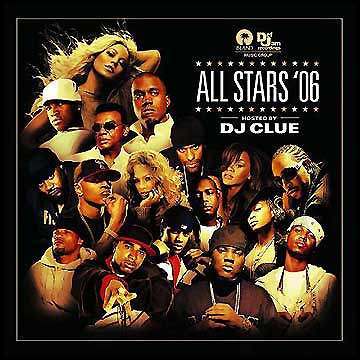 DJ Clue? hosts this mix for the Def Jam squad who deliver their latest
and best tracks. This mix features an All Star lineup from the record
label powerhouse including artists like Juelz Santana, LL Cool J, Mariah
Carey, Joe Budden, Christiana Milian, Fabolous, Kanye West, Young
Jeezy, Nas, Black Buddafly, The Isley Brothers, Ghostface & Ne-Yo.

1 - Intro
2 - Don't 4Get About Us Part 2 - DJ Clue & Mariah Carey feat. Fabolous & Styles P
3 - 2006 Freestyle - Nas
4 - So Sick - Ne-Yo
5 - Shottaz - Juelz Santana
6 - My Hood - Young Jeezy
7 - Backatcha - Fabolous
8 - I Keep That - Joe Buddens
9 - Gettin Some - Shawanna
10 - Yes Sir - Short Dawg
11 - Control Myself - LL Cool J feat. Jennifer Lopez
12 - Touch The Sky - Kanye West
13 - Say I - Christinia Milian feat. Young Jeezy
14 - Jiggle It - Young Leek
15 - Oh Yes! - Juelz Santana
16 - Back Like That - Ghostface feat. Ne-Yo
17 - Who Want It - Sam Scarfo feat. Buju Banton
18 - Take A Picture - 334 Mobb
19 - Bad Girl - Black Buddafly feat. Fabolous
20 - Came To Chill - Isley Bros. feat. Mr. Biggs
How To DOWNLOAD