DJ Envy & Splash - Def Jam R&B #3
Submitted by mfizzel on Fri, 06/02/2006 - 5:48pm.
R&B | DJ Envy | Mixtape Torrents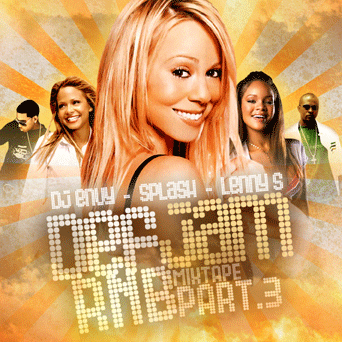 DJ Envy and Splash team up with Lenny S. the Def Jam Records
Senior V.P. and A&R. This mix has new hit R&B music from the Def
Jam camp featuring tracks from Mariah Carey & Dem Franchize Boyz,
Christina Milian, Black Buddafly & Fabolous, Daron Jones & D4L, The
Isley Brothers, Rihanna, Bobby Valentino, Ne-Yo, Shareefa & Ludacris.

1 - The One You Need - Megan Rochell feat. Fabolous
2 - Say Something (remix) - Mariah Carey feat. Dem Franchize Boyz
3 - Say I - Christina Milian feat. Young Jeezy
4 - Bad Girl - Black Buddafly feat. Fabolous
5 - Sexy Love - Ne-Yo
6 - My Kinda Girl - Daron Jones (112) feat. Lil Wayne
7 - I Need A Boss - Shareefa feat. Ludacris
8 - When You're Mad - Ne-Yo
9 - Gonna Tell Everybody - Christina Milian
10 - Unfaithful - Rihanna
11 - Tonight - Black Buddafly
12 - Blast Off - The Isley Bros.
13 - Hot - Bobby Valentino
14 - Dance For Me - Daron Jones feat. D4L
15 - P.S. (I'm Still Not Over You) - Rihanna
16 - Just Came Here To Chill - The Isley Bros.
17 - Alone - Bobby Valentino
18 - Twisted - Christina Milian
19 - SOS (Rescue Me) - Rihanna
20 - Say Something (original) - Mariah Carey feat. Snoop Dogg
21 - Ne-Yo Freestyle
How To DOWNLOAD