DJ L & DJ Suss One - Satisfaction Guaranteed #4
Submitted by mfizzel on Tue, 05/16/2006 - 9:55am.
Mixtape Directory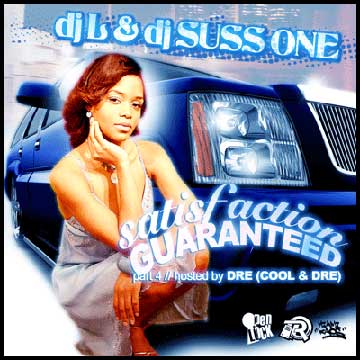 DJ L is joined by long time partner DJ Suss One and they have Dre
(from Cool & Dre) stop by to host this R&B mix which features all-new
music, including new remixes and dope new production. This features
Christina Millian & Dre, Ronald Isley, India Arie & Swizz Beatz, Rihanna,
LL Cool J & Teairra Mari, Razah & Juelz Santana, Avant & Lloyd Banks.

1 - Dre (from Cool 'N Dre) -Intro
2 - Christina Millian feat. Dre- So Amazing (produced by Cool 'N Dre)
3 - Cassie feat. Corey Gunz- Me & You (remix)
4 - Nathan feat. Joe Budden- Round & Round
5 - Rihanna feat. Corey Gunz- If It's Lovin' That You Want Pt. 2
6 - India Arie feat. Swizz Beatz- I Am Not My Hair remix (produced by Swizz Beatz)
7 - Razah feat. Prodigy- I'm In Luv With You (remix)
8 - Avant feat. Lloyd Banks- We Don't Need
9 - Megan Rochelle feat. Fabolous- The One You Need (produced by Darkchild)
10 - Heat feat. Fabolous- One More Try
11 - Dani feat. Snoop Dogg- I Need A G
12 - LL Cool J feat. Teairra Mari- Preserve My Sexy
13 - Busta Rhymes feat. Will I Am, Kelis- I Love My Bitch (produced by Will I Am)
14 - Cecile feat. Trina- Hot Like That
15 - Rihanna - Break It Off
16 - Black Buddafly- Tonight
17 - Cassie- Can't Do It Without You
18 - Rob Murat- Miracle
19 - U-Ness- Finally
20 - Rell- Never Stop
21 - Bobby Valentino- Hot
22 - Dre (from Cool 'N Dre) - Interlude
23 - Christina Millian feat. Dre- Hot Boy (produced by Cool 'N Dre)
24 - Missez feat. Pimp C- Love Song
25 - Brooke Valentine feat. Pimp C- Dope Girl
26 - Razah feat. Juelz Santana- Where I'm From
27 - Dre (from Cool 'N Dre) Interlude
28 - Ne-Yo feat. AC- When You're Mad
29 - Rihanna- Kisses Don't Lie
30 - Dre (from Cool 'N Dre) Interlude
31 - Nikko feat. Rick Ross- As A Child
32 - Raheem Devaughn- You
33 - Ronald Isley - The Blast Off
34 - Avant feat. The Pussycat Dolls- Stick With You (remix)
35 - Dre (from Cool 'N Dre) Outro
How To DOWNLOAD