DJ Envy - R&B Vol. 26
Submitted by mfizzel on Tue, 03/28/2006 - 12:46am.
R&B | DJ Envy | Mixtape Torrents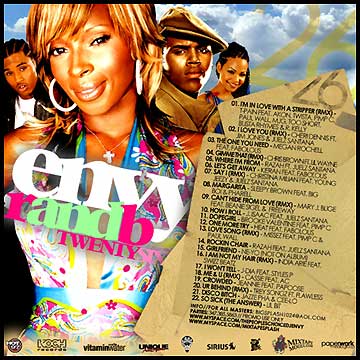 DJ Envy presents to you the latest and hottest R&B rotating the radio
and clubs right now, including all-new tracks, remixes & slow jams. With
more than 20 crazy new tracks, this mixtape features Big Boi & Pharrell,
Cheri Dennis & Dipset, T-Pain (remix), Razah & Juel, Missez & Pimp C,
Cassie & AC, Christina Milian, Brooke V, Akon, Fab & Megan Rochelle.

1 - I'm In Love With A Stripper (remix) - T-Pain feat. Akon, Twista, Pimp C, Paul Wall, Mjg, Too Short, Busta Rhymes
2 - I Love You (remix) - Cheri Dennis feat. Jim Jones & Juelz Santana
3 - The One You Need - Megan Rochell feat. Fabolous
4 - Gimme That (remix) - Chris Brown feat. Lil Wayne
5 - Where I'm From - Razah feat. Juelz Santana
6 - Let's Get Away - Kieran feat. Fabolous
7 - Say I (remix) - Christina Milian feat. Young Jeezy & Juelz Santana
8 - Margarita - Sleepy Brown feat. Big Boi & Pharrell
9 - Can't Hide From Love (remix) - Mary J. Blige feat. Beanie Sigel & Freeway
10 - How I Roll - J. Isaac feat. Juelz Santana
11 - Dopegirl - Brooke Valentine feat. Pimp C
12 - One More Try - Heat feat. Fabolous
13 - Love Song (remix) - Missez feat. Pimp C & Paul Wall
14 - Rockin Chair - Razah feat. Juelz Santana
15 - Girlfriend - Ne-Yo (not on album)
16 - I Am Not My Hair (remix) - India Arie feat. Swizz Beatz
17 - I Won't Tell - J-Dia feat. Styles P
18 - Me & U (remix) - Cassie feat. AC
19 - Crowded - Jeannie feat. Papoose
20 - Ur Behind (remix) - Trey Songz feat. Flawless
21 - Disco Bitch - Jazze Pha & Cee-Lo
22 - So Sick (The Answer) - Lil Bit
How To DOWNLOAD