DJ Clue - Best Damn Remixes Period! Vol. 1
Submitted by mfizzel on Fri, 06/02/2006 - 5:48am.
General | DJ Clue | Mixtape Torrents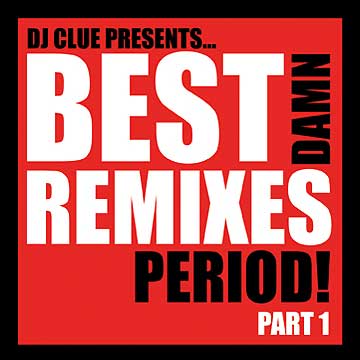 Desert Storm Records founder DJ Clue? aka. Fidel Cashflow knows
all about remixes, in fact he has recently been hired to produce remixes
of 3 hit tracks by Mariah Carey. This features nothing but the best and
latest remixes from Shawnna w/ Too Short, Lil' Wayne & Pharrell, Busta
Rhymes w/ Mary J. Blige, Rah Digga, Lloyd Banks, Papoose & Missy,
Lil' Scrappy & Young Buck, Chamillionaire & UGK, Yung Joc and Trae.

1 - DJ Clue Intro
2 - Hustlin (remix) - Rick Ross feat. Young Jeezy & Jay-Z
3 - Bring It Back (remix) - Jae Millz feat. Fabolous & Lil' Wayne
4 - Conceited (remix) - Remy Martin feat. Lil' Wayne, Trina, Papoose & Jae Millz
5 - I Love You (remix) - Cheri Dennis feat. Jim Jones & Yung Joc
6 - Me & You - Cassie feat. Ray J
7 - Enough Cryin - Mary J. Blige feat. Gravy
8 - Smokin' Smokin' Weed - Ray J feat. Snoop Dogg, Nate Dogg, DJ Clue & Shorty Mac
9 - Don't Forget About Us (remix) - DJ Clue & Mariah Carey feat. Fabolous & Styles P.
10 - Goin' Down - Yung Joc feat. Trae
11 - Money In Da Bank (remix) - Lil' Scrappy feat. Young Buck
12 - You'z A Trick - Lil' Flip feat. Bun B & Pimp C
13 - Ridin' Dirty (remix) - Chamillionaire feat. Bun B & Pimp C
14 - Gettin' Some (remix) - Shawnna feat. Too Short, Lil' Wayne & Pharrell
15 - Freeze (remix) - LL Cool J feat. 50 Cent & Lloyd Banks
16 - New York Shit (remix) - Busta Rhymes feat. Swizz Beatz & KRS-One
17 - Back Like That (remix) - Ghostface feat. Kanye West & Ne-Yo
18 - Gimme Dat (remix) - Chris Brown feat. Lil' Wayne
19 - Say Something (remix) - Mariah Carey feat. Dem Franchize Boyz
20 - Touch It (remix) - Busta Rhymes feat. Mary J. Blige, Rah Digga, Lloyd Banks, Papoose & Missy
How To DOWNLOAD