DJ Kay Slay - Busta Rhymes: Point Of No Return
Submitted by mfizzel on Wed, 02/22/2006 - 4:04pm.
Mixtape Directory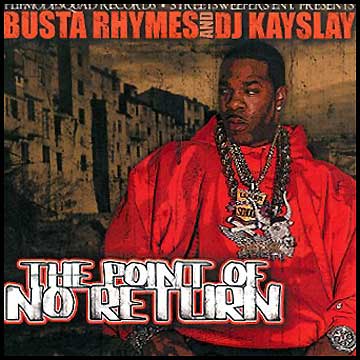 DJ Kay Slay aka. The Drama King teams up with Busta Rhymes for
this crazy Flipmode mix featuring 19 new Busta Rhymes joints + new
remixes/freestyles. This joint features cameos from Papoose, Cassidy,
Rick Ross, Raekwon, BIG, Spliff Star, Nate Dogg, Rah Digga, Mary J,
Foxy, Redman, Bun B. & Big Boi. The Busta Rhymes album is coming!

1 - Busta Rhymes Intro
2 - Busta Rhymes feat. Mary J. Blige, Rah Digga & Missy Elliot- Touch It (remix part 1)
3 - Busta Rhymes feat. DMX - Touch It (remix part 2)
4 - Busta Rhymes feat. Lloyd Banks & Papoose Touch It (remix part 3)
5 - Busta Rhymes feat. Cassidy & Papoose - Psycho
6 - Labba feat. Papoose & Busta Rhymes - Juks "The Way It Is"
7 - Raekwon feat. Busta Rhymes - State Of Grace (remix)
8 - Busta Rhymes, Papoose & Raekwon - Address Me As Mr. (remix)
9 - Rick Ross feat. Busta Rhymes - Hustlin' (remix)
10 - Labba feat. Busta Rhymes - Boss Of The Bosses
11 - J Bo Of The Youngbloodz feat. Busta Rhymes - Whole Lotta Ass
12 - Labba feat. Bun B - Uptown Bounce
13 - Notorious B.I.G. feat. Redman, Nate Dogg & Busta Rhymes - The Funk
14 - Spliff Star - Black Roses
15 - Rah Digga - We Don't Give A Fuck
16 - Big Boi feat. Purple Ribbon All Stars & Busta Rhymes - Kryptonite (remix)
17 - Busta Rhymes & Labba - Slowwind
18 - Chris Brown feat. Labba & Busta Rhymes - Yo (Excuse Me) (remix)
19 - Robin Thicke feat. Pharrell, Spliff Star, Labba & Busta Rhymes - Wanna Love U Girl (remix)
20 - Notorious B.I.G. feat. Snoop Dogg, Busta Rhymes, Foxy Brown & Nate Dogg - Talkin' Too Much
How To DOWNLOAD