Tapemasters Inc - The Future Of R&B #9
Submitted by mfizzel on Mon, 05/08/2006 - 9:59am.
R&B | Tapemasters Inc | Mixtape Torrents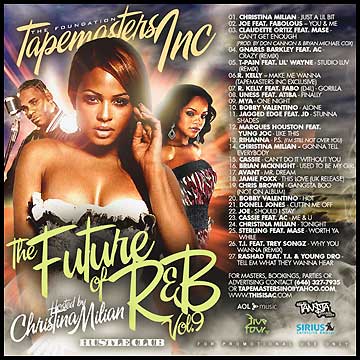 Tapemasters Inc.is in the presence of R&B's superstar goddess, the
lovely Christina Milian, and we're paying attention. Featuring a gang
of new remixes, unreleased tracks, slow jams + exclusive R&B cuts,
this R&B jam hosted by the Def Jam cutie features new tracks from
Joe & Fabolous, Mase & Claudette Ortiz, Mya, Bobby Valentino, Avant,
Cassie, Jamie Foxx, Chris Brown, T-Pain/Lil' Wayne, Rihanna & more.

1 - Christina Milian - Just A Lil Bit
2 - Joe feat. Fabolous – You & Me
3 - Claudette Ortiz feat. Mase - Can't Get Enough (produced by DJ Don Cannon)
4 - Gnarls Barkley feat. AC - Crazy (remix)
5 - T-Pain feat. Lil' Wayne - Studio Luv (remix)
6 - Fabo (D4L) - Gorilla
7 - Uness feat. Atiba - Finally
8 - Mya - One Night
9 - Bobby Valentino - Alone
10 - Jagged Edge feat. JD - Stunna Shades
11 - Marques Houston feat. Yung Joc - Like This
12 - Rihanna - P.S. (I'm Still Not Over You)
13 - Christina Milian - Gonna Tell Everybody
14 - Cassie - Can't Do It Without You
15 - Brian McKnight - Used To Be My Girl
16 - Avant - Mr. Dream
17 - Jamie Foxx - This Love (UK release)
18 - Chris Brown - Gangsta Boo (not on album)
19 - Bobby Valentino - Hot
20 - Donell Jones - Cuttin Me Off
21 - Joe - Should I Stay
22 - Cassie feat. AC - Me & U
23 - Christina Milian - Tonight
24 - Sterling feat. Mase - Worth Ya While
25 - T.I. feat. Trey Songz - Why You Wanna (remix)
26 - Rashad feat. T.I. & Young Dro - Tell Em What They Wanna Hear
How To DOWNLOAD