DJs L & Suss One - Satisfaction Guaranteed Part 5
Submitted by mfizzel on Thu, 07/06/2006 - 9:14am.
R&B | DJ Suss One & DJ L | Mixtape Torrents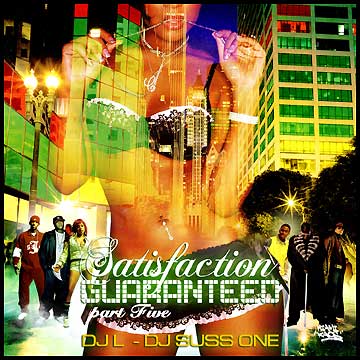 DJ L and DJ Suss One hit you with another round of bedrooms tunes,
club bangers & remixes from the R&B ranks with a 5th satisfying dose.
This R&B joint features new music from the likes of Nelly Furtado w/
Timbaland, Cassie & Ja Rule/Maino, Bobby Valentino, Joe & Papoose,
Next, Mashonda, Omarion, Monica, Mariah Carey, Donell Jones, Trey
Songz, Kelis & Slim Thug, Jagged Edge, Shareefa & Ludacris, Avant.

1 - Nelly Furtado feat. Timbaland- Promiscuous Girl
2 - Ryan Toby feat. Beanie Sigel- Just My Thang
3 - Joe feat. Papoose- Where U At
4 - Joe feat. Fabolous- You And Me
5 - Paris Hilton feat. Jadakiss- Fightin' Over Me
6 - Claudette Ortiz feat. Mase- Can't Get Enough
7 - Sterling feat. Mase- Worth Ya While
8 - Cassie feat. Maino, Ja Rule- Me And You (remix)
9 - Tiffany Affair feat. Jody Breeze- Start A Fire
10 - Urban Mystic feat. Rick Ross- I Refuse
11 - Bobby Valentino- Wreck
12 - Omarion- Entourage
13 - Next- Just Tonight
14 - Mashonda- New York Shit (Girl Version)
15 - Donell Jones- Spend The Night
16 - Donell Jones feat. The Clipse- I'm Gonna Be
17 - Kira feat. Papoose- My Life
18 - Rashad feat. Young Dro, T.I.- Tell 'Em What They Wanna Hear
19 - Monica feat. Dem Franchise Boyz- Everytime The Beat Drops (produced by Jermaine Dupri)
20 - Mariah Carey feat. Dem Franchise Boyz- Say Something (So So Def remix)
21 - D4L- Gorilla
22 - Marques Houston feat. Young Joc- Like This
23 - Jagged Edge feat. Jermaine Dupri- Stunnas
24 - Joe feat. Tony Yayo, Young Buck- Like Me
25 - Natalie feat. Bun B- What You Gonna Do
26 - Kelis feat. Slim Thug- Bossy (remix)
27 - Shareefa feat. Ludacris- Need A Boss (produced by Darkchild)
28 - T. Waters feat. Trey Songz- So Kool
29 - Infa-Red feat. Beyonce- I Like Your Game
30 - Lil' Wayne feat. Bobby Valentino- Grown Man (remix)
31 - Natalia- I Choose You
32 - Megan Rochelle- Floating Radio
33 - Avant feat. Bone, Thugs, 'N Harmony, Shawnna- 4 Min (remix) (produced by Mr. Collipark)
34 - T-Pain feat. Lil' Wayne- Studio Luv (remix)
35 - Meena feat. Noelle- Slow Down
36 - Tre Williams- Testify Pt. 2
BONUS TRACKS
37 - Baby Cham feat. Akon- Ghetto Story (remix)
38 - Beenie Man feat. Akon- Girls
39 - Sizzla- Take Myself Away
- This tape is missing 2 tracks -
How To DOWNLOAD