DJ L - Satisfaction Guaranteed #6
Submitted by mfizzel on Mon, 07/24/2006 - 6:08am.
R&B | DJ L | Mixtape Torrents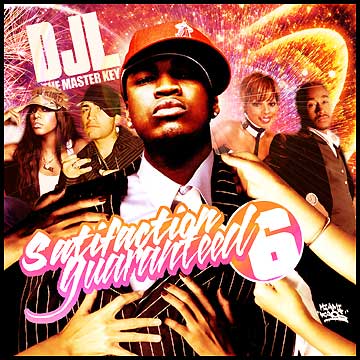 DJ L is a constant R&B supplier, so he's always heavy in rotation with
all the flyest new jams from R&B's biggest names and brightest up-and-comers.
And with the 6th edition of his latest R&B series, you'll be left feeling
nothing less than Satisfaction.
This mixtape puts all the most recent R&B together, including the new
Christina Aguilera track produced by DJ Premier.
This mixtape also features Mario Winans, NeYo, Cassie, Nelly Furtado &
Rick Ross, JD, Lloyd & Lil' Wayne, Ciara, Mary J Blige, Trey Songz, Beyonce,
Cherish & Yung Joc, Ms. Janet, Tony Sunshine, Tyrese and more.
1 - Christina Aguilera - Ain't No Other Man (produced by DJ Premier)
2 - Nelly Furtado feat. Rick Ross - Promiscuous Girl (remix) (produced by Timbaland)
3 - Beyonce feat. Jay-Z - Deja Vu
4 - Mary J. Blige feat. Jay-Z - Turn Off The Lights
5 - Ne-Yo feat. Joe Budden - Sexy Love (remix)
6 - Lil' Mo feat. Da Brat, Cocoa Chanelle - Back Like That (Female Version)
7 - Cassie feat. P. Diddy, Yung Joc - Me & You (remix)
8 - Cassie feat. Ryan Leslie- Me & You (remix Pt. 2)
9 - Megan Rochelle feat. AC - Betcha (remix)
10 - Lloyd feat. Lil' Wayne - You
11 - Mario Winans - Real Love (produced by Darkchild)
12 - Omarion - Entourage
13 - Read Interlude
14 - Carl Thomas feat. Brandy - Something About You
15 - Frankie J feat. Mannie Fresh, Slim Thug - That Girl
16 - Janet Jackson feat. Nelly - Call On Me (produced by Jermaine Dupri)
17 - 3LW feat. Jermaine Dupri - Feelin' You (produced by Jermaine Dupri)
18 - Le Toya feat. Rick Ross - Torn (remix) (produced by Jermaine Dupri)
19 - Jaheim feat. Ghostface, Talib Kweli - The Chosen One (remix)
20 - Eve feat. T.I. - He Can't See Me (produced by Swizz Beatz)
21 - Cherish feat. Yung Joc, Jody Breeze, Chingy, Fabo - Do It To It (remix)
22 - Nina Sky feat. Rick Ross - Flippin' That (produced by Cool 'N Dre)
23 - Nelly Furtado feat. Lil' Wayne - Man Eater (remix)
24 - Jamie Foxx feat. Grafh - DJ Play A Love Song (remix)
25 - Trey Songz - Are You A Performer
26 - Ron Dealz feat. Cardan - Yes
27 - Beyonce - Woman Like Me
28 - Tyrese - Chapter 126
29 - Trey Songz - I Don't Love You
30 - Tony Sunshine - Ill Metaphors
BONUS TRACKS
31 - Ciara feat. Chamillionaire - Get Up
32 - Fatman Scoop feat. Jabba, Elephant Man - U Sexy
33 - Keyshia Cole - Give It Up
34 - Baby Cham feat. Akon - Ghetto Story (remix
How To DOWNLOAD