DJ L - Young and Sexy 14
Submitted by mfizzel on Thu, 12/01/2005 - 3:46pm.
Mixtape Directory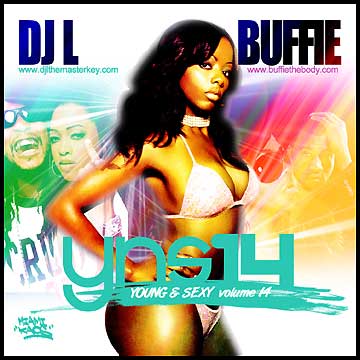 DJ L gets the extremely sexy Buffie 'The Body' to host this new R&B
mixtape which has the latest hit singles and brand new remixes, plus it
has new beats from some of the best producers. This also has new and
exclusive tracks from Lil' Kim, Mariah Carey, Twista, Trey Songz, Akon,
Sizzla, Lil' Jon, Jermaine Dupri, Trina, Jaimie Foxx, Nicole Wray & Maino.

1 - Buffie The Body- Intro/Fugees- Take It Easy
2 - Twista feat. Pitbull- Hit The Floor
3 - Twista- Check That Hoe
4 - Twista feat. Pharrell, Jaime Foxx- When I Get You Home (produced by The Neptunes)
5 - Buffie The Body- Interlude
6 - Razah feat. Fatman Scoop- I'm In Love With You
7 - Jaime Foxx feat. Ludacris- Unpredictable
8 - Nicole Wray feat. Maino- Guns 'N Roses
9 - Joe- Just Relax
10 - Trey Songz- Motivation (freestyle)
11 - Buffie The Body- Interlude
12 - Lil' Wayne- Fireman (produced by Develop)
13 - David Banner feat. Jagged Edge- 2 Fingers
14 - Young Bloodz feat. Akon- Presidential (remix) (produced by Akon)
15 - Lil' Webbie- How You Ridin' (New Single)
16 - Bun B.- Draped Up
17 - Hawk feat. Lil' Jon- Hoes Ain't Shit (produced by Lil' Jon And Scott Storch)
18 - Lil' Kim feat. Bun B., Twista- We Don't Give A Fuck
19 - Twista feat. Mariah Carey- So Lonely (produced by Darkchild)
20 - Buffie The Body- Interlude
21 - Akon feat. Vybz Kartel, Shabba Ranks, Sizzla- Gun Session (remix)
22 - Styles P. feat. Sizzla- I'm Black (remix)
23 - Venom- Welcome To... (Spanish Version)
24 - Lele- Rollin'
25 - T-Pain- In Love With A Stripper
26 - Common Sense, Mos Def- Love It Or Leave It Alone
27 - Jaime Foxx feat. Jermaine Dupri, Kanye West- One Night Extravaganza (remix) (produced by Jermaine Dupri)
28 - Santana feat. Big Boi, Mary J. Blige- My Man
29 - Trina feat. Trey Songz- 50/50 Love
30 - Trina feat. Dre- Lil' Mama (produced by Cool 'N Dre)
31 - Juvenile- Rodeo (produced by Cool N' Dre)
32 - Buffie The Body- Outro
BONUS TRACK
33 - Warren G. feat. Ice Cube, B Real, Snoop Dogg- Get Ya Down Pt. 2 (Dedicated To Hurricane Katrina Victims)
How To DOWNLOAD