DJ Kay Slay - R&B Models Part 5 (Hosted By Tayo Thomas)
Submitted by mfizzel on Fri, 05/26/2006 - 2:48am.
R&B | DJ Kay Slay | Mixtape Torrents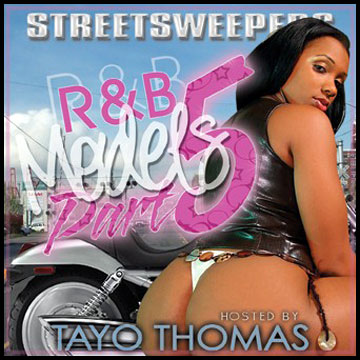 DJ Kay Slay brings you the 5th edition of his R&B Models series
featuring new video models. "Connecticut's Best Kept Secret," Tayo
Thomas shows some love and hosts this smooth R&B mix featuring
new R&B remixes from Joe & Papoose, Ghostface & Ne-Yo, Mariah
Carey, Avant, Mary J. Blige, Jagged Edge, Chris Brown, and more...

1 - Starcars Advertisement
2 - Intro - Tayo Thomas "Super Model"
3 - Baby Where You At -Joe feat. Papoose
4 - Back Like That Remix - Ghostface feat. Ne-Yo & Kanye West
5 - Say Something (Remix) Mariah Carey feat. Dem Franchise Boyz
6 - Exclusive - Avant feat. Lloyd Banks
7 - Like This - Marques Houston feat. Young Joc
8 - Stunnas - Jagged Edge feat. J.D.
9 - Favorite Flavor - LL Cool J feat. Mary J. Blige
10 - I Love You (Remix) - Cheri Dennis feat. Notorious B.I.G., Jim Jones & Young Joc
11 - New York Shit - Mashonda
12 - Gimme That - Chris Brown feat. Lil Wayne
13 - Gorillaz - Fabolous
14 - Start a Fire - Tiffany Affair feat. Jody Breeze
15 - One More Chance - Yummy
16 - Me & You - Cassie feat. Maino
17 - Crazy - Gnarls Barkley
18 - Enough Crying - Mary J. Blige feat. Brook Lynn
19 - Say I - Christina Milian feat. Young Jeezy
20 - Need A Boss - Shareefa feat. Ludacris
21 - Big Nigga - Lyfe Jennings
22 - Things They Say - Method Man
23 - You Know What - Avant feat. Lil Wayne & J.D.
24 - I Am Not My Hair - Remix - India Arie feat. Akon
25 - It Just Ain't Right - Ne-Yo
26 - Outro - Tayo Thomas "Super Model
How To DOWNLOAD