Tapemasters Inc - The Future Of RnB Pt 8
Submitted by mfizzel on Wed, 02/01/2006 - 7:56pm.
Mixtape Directory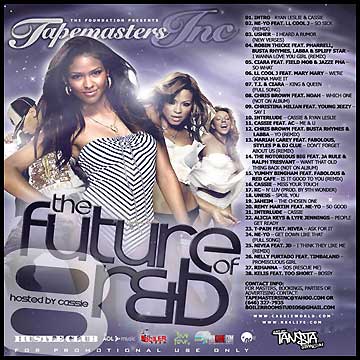 Tapemasters Inc. brings you the 8th edition of their R&B mix series
The Future of R&B, a mixtape dedicated to the hottest R&B, including
new tracks, remixes and exclusives. Featuring new music by Ne-Yo &
LL Cool J, Chris Brown, T.I. & Ciara, Robin Thicke w/ Pharrell & Busta
Rhymes, Fabolous, Biggie & Ja Rule, Cassie/Ryan Leslie, Timbaland.

1 - Intro - Ryan Leslie & Cassie
2 - Ne-Yo feat. LL Cool J – So Sick (remix)
3 - Robin Thicke feat. Pharrell, Busta Rhymes, Labba & Spliff Star – I Wanna Love You Girl (remix)
4 - Ciara feat. Field Mob & Jazze Pha – So What
5 - LL Cool J feat. Mary Mary – We're Gonna Make It
6 - T.I. & Ciara – King & Queen
7 - Chris Brown feat. Noah – Which One (not on album)
8 - Christina Milian feat. Young Jeezy – Say I
9 - Interlude - Cassidy & Ryan Leslie
10 - Cassie feat. AC – Me & You
11 - Chris Brown feat. Busta Rhymes & Labba – Yo (remix)
12 - Mariah Carey feat. Fabolous, Styles P & DJ Clue – Don't Forget About Us (remix)
13 - The Notorious BIG feat. Ja Rule & Ralph Tresvant – Want That Old Thing Back (not on album)
14 - Yummy Bingham feat. Fabolous & Red Cafe – Is It Good To You (remix)
15 - Cassie – Miss Your Touch
16 - KC – N' Luv (produced by 9th wonder)
17 - Uness – Spoil You
18 - Jaheim – The Chosen One
19 - Remy Martin feat. Ne-Yo – So Good
20 - Interlude – Cassie
21 - Lyfe Jennings – People Get Ready
22 - T-Pain feat. Nivea – Ask For It (not on album)
23 - Ne-Yo – Get Down Like That
24 - Nivea feat. JD – I Think They Like Me (remix)
25 - Nelly Furtado feat. Timbaland – Promiscuous Girl
26 - Rhianna – SOS (Rescue Me)
27 - Kelis feat. Too Short – Bossy
How To DOWNLOAD