DJ Keyz - Definition Of A Slow Jam Pt. 2
Submitted by mfizzel on Thu, 03/09/2006 - 8:24am.
R&B | DJ Keyz | Mixtape Torrents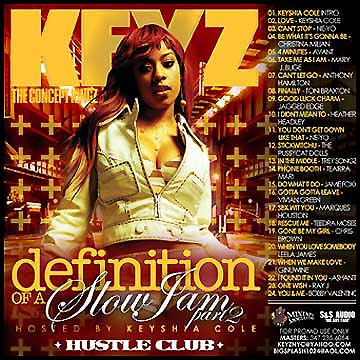 DJ Keyz and host Keyshia Cole know what slow jams are all about and
they drop this sequel which has all the latest best new slow jam tracks.
This features slow jams from Ne-Yo, Trey Songz, Leela James, Jagged
Edge, Ashanti, Chris Brown, Teairra Mari, Toni Braxton, Bobby Valentino,
The Pussycat Dolls, Marques Houston, Ray J, Ginuwine and Jamie Foxx.
1 - Keyshia Cole Intro
2 - Love - Keyshia Cole
3 - Can't Stop - Ne-Yo
4 - Be What It's Gonna Be - Christina Milian
5 - 4 Minutes - Avant
6 - Take Me As I Am - Mary J. Blige
7 - Can't Let Go - Anthony Hamilton
8 - Finally - Toni Braxton
9 - Good Luck Charm - Jagged Edge
10 - I Didn't Mean To - Heather Headley
11 - You Don't Get Down Like That - Ne-Yo
12 - Stickwitchu - The Pussycat Dolls
13 - In The Middle - Trey Songz
14 - Phone Booth - Teairra Mari
15 - Do What It Do - Jamie Foxx
16 - Gotta Gotta Leave - Vivian Green
17 - Sex Wit You - Marques Houston
18 - Rescue Me - Teedra Moses
19 - Gone Be My Girl - Chris Brown
20 - When You Love Somebody - Leela James
21 - When We Make Love - Ginuwine
22 - I Found It In You - Ashanti
23 - One Wish - Ray J
24 - You & Me - Bobby Valentino
How To DOWNLOAD