DJ Finesse - Platinum Slow Jams 20
Submitted by mfizzel on Thu, 12/01/2005 - 3:23pm.
Mixtape Directory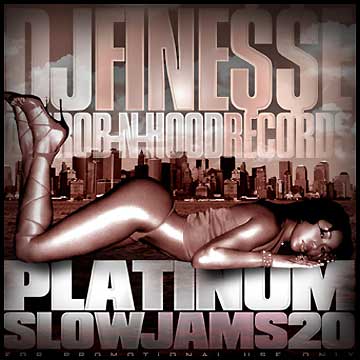 DJ Finesse aka. The R&B King teams up with Rob 'N Hood Records
as they get to slowing things down and hand-picking some of the best
and baddest slow jams from all the top R&B performers featuring 112,
Ray J, Marques Houston, Keyshia Cole, Bobby Valentino, Shawn Kane,
Tierra Marie, Amerie, Olivia, Trey Songz, Donell Jones & Faith Evans.

1 - 112 - We Goin Be Alright
2 - Donell Jones - September Love
3 - Shawn Kane - When U Gonna Tell Ya Momma
4 - Bobby Valentino - You & Me
5 - Mike Charles - Come Back 2 Stay
6 - Marques Houston - Naked
7 - Omarion - Slow Dancin'
8 - Keyshia Cole - We Could Be
9 - Ray J - One Wish
10 - Amerie - Rolling Down My Face
11 - Olivia - When 2 Souls Touch
12 - Super Star
13 - Xscape - So In Love
14 - Faith Evans - Until You Came
15 - Charlie Wilson - Charlie, Last Name Wilson
16 - Vivian Green - Perfect Decision
17 - Tierra Marie - Act Right
18 - Trey Songz - Kinda Lovin U
How To DOWNLOAD