DJ Finesse - Platinum Slow Jams #24
Submitted by mfizzel on Thu, 06/15/2006 - 8:02am.
R&B | DJ Finesse | Mixtape Torrents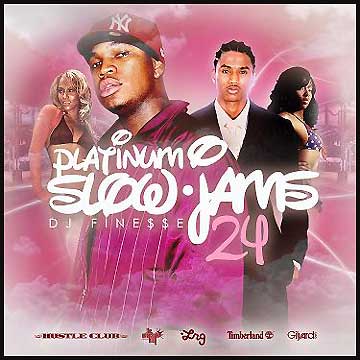 DJ Finesse aka. The Lady's Choice is back with another hit slow jams
mix. This has all the latest slow jams and tunes for the bedroom from
some of the biggest names in R&B. This features Mary J. Blige, The
Isley Brothers, Jamie Foxx, Jagged Edge, Donell Jones, Trey Songz,
Ginuwine, Floetry, Toni Braxton, Brian McKnight & The Pussy Cat Dolls.

1 - Ne-Yo - Lonely (exclusive)
2 - Trey Songz - Hatin' Love
3 - Zieme - Ooh Ahh
4 - Mary J Blige - Ain't Really Love
5 - Marques Houston - Marriage
6 - Donell Jones - My Apology
7 - Ginuwine - Betta Half
8 - Daunta Tyler - Tonight
9 - Isley Brothers - Just Came Here To Chill
10 - Heather Headly - In My Mind
11 - Jamie Foxx - Get This Money
12 - Jagged Edge - Hopefully
13 - Ne-Yo - Mirror
14 - Floetry - Feelings
15 - Cassie - Kiss Me
16 - Toni Braxton - Finally
17 - Pussy Cat Dolls - Stick With You
18 - Brain Mcknight - Find Myself In You
19 - Raheem De Vaughn - You
BONUS TRACK
20 - LL Cool J - Down The Aisle feat. 112
How To DOWNLOAD