DJ Kurupt - Mobb Deep: Streetcorner Gangstas
Submitted by mfizzel on Mon, 05/29/2006 - 7:06am.
East Coast | DJ Kurupt | Mixtape Torrents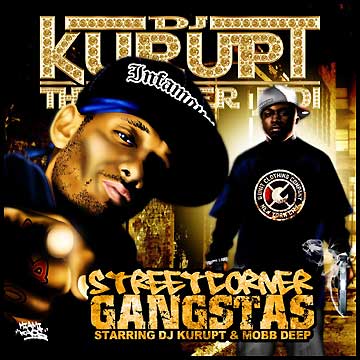 DJ Kurupt comes with an official Mobb Deep banger to get you open
for the latest neck-breakin' album from the Infamous Queensbridge duo.
To celebrate the release of their G-Unit Records debut, this mixtape is
hosted by M.O.B.B.'s sharp-shooter Prodigy and features nothing but
heat from QB's finest. Featuring 25+ freestyles, tracks, blends & more.

1 - Prodigy Intro
2 - Mobb Deep – Put 'Em In There Place (Kurupt blend)
3 - Prodigy Freestyle
4 - Mobb Deep Interlude
5 - Mobb Deep & 50 Cent – Deep Creep
6 - Prodigy Freestyle
7 - 40 Glocc & Sam Scarfo – Where Them Hammers At
8 - Mobb Deep – Smoke It
9 - Mobb Deep & 50 Cent – Infamous
10 - Mobb Deep – Who We Ride For
11 - Prodigy & Nyce – Freestyle
12 - Mobb Deep, Nas & Raekwon – Eye For An Eye
13 - Mobb Deep – Shock Ones (Kurupt blend)
14 - Mobb Deep – Throw Ya Hands
15 - Mobb Deep Interlude
16 - Mobb Deep – Capital P, Capital H
17 - Mobb Deep – Freestyle
18 - Mobb Deep – All Mines
19 - Mobb Deep – Get Ya Hustle On
20 - Mobb Deep & Tony Yayo – Click Click
21 - Mobb Deep – Backstage Pass
22 - Mobb Deep & Young Buck – Give It To Me
23 - Mobb Deep – Get It Twisted (Kurupt blend)
24 - Mobb Deep & Big Noyd– Give Up The Goods
25 - Mobb Deep – There That Go
26 - Mobb Deep Interlude
27 - Mobb Deep 50 Cent & Mary J Blige – It's Alright
28 - Mobb Deep & 50 Cent – Outta Control (remix)
29 - Prodigy Outro
How To DOWNLOAD