DJ Whoo Kid - Mobb Deep: G-Unit Radio 20 (Best in the Bizness #2)
Submitted by mfizzel on Tue, 04/11/2006 - 6:04am.
Mixtape Directory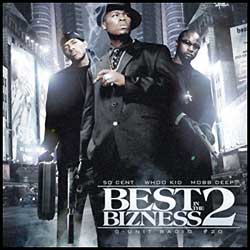 Props KDshortkid

DJ Whoo Kid calls back Mobb Deep for an encore to the infamous
Mobb Deep's official G-Unit mixtape series Best In The Bizness. With
cosigner 50 Cent putting the Blood Money promotion machine into full
swing, Prodigy and Havoc return for another round of freestyles and
exclusives + the return of the impressive Nyce & 40 Glocc from #17.

1 - Prodigy Intro
2 - Prodigy - Got Beef?
3 - Prodigy feat. Nyce - A Time To Kill
4 - Mobb Deep - Yeah Yeah
5 - 50 Cent - Devil Son Skit
6 - Mobb Deep feat. 50 Cent - Pearly Gates
7 - Mobb Deep - Fuck You
8 - Prodigy feat. 40 Glocc - Millions Dollars In Guns
9 - Prodigy - Las Vegas P
10 - 40 Glocc Poppin' Skit
11 - 40 Glocc - Where The Hammers At
12 - Prodigy feat. Nyce - Snitch
13 - Mobb Deep - Put 'Em In They Place
14 - Mobb Deep feat. Nyce - Don't Come Around Here
15 - Prodigy - Too Many Rappers
16 - Nyce, Prodigy & 40 Glocc - I'm A Soldier 4 Life
17 - Prodigy feat. 40 Glocc & Nyce - Hood
18 - Outro
How To DOWNLOAD