DJ Whoo Kid - Mobb Deep: G-Unit Radio 17 (Best In The Bizness)
Submitted by mfizzel on Mon, 02/27/2006 - 6:50pm.
Mixtape Directory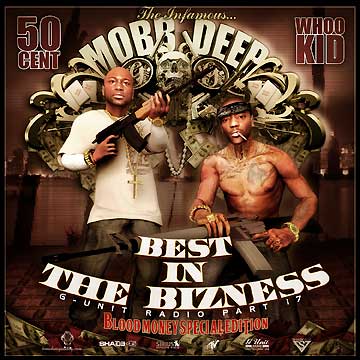 DJ Whoo Kid puts the G-Unit brand in full motion with this Infamous
mixtape from QB's favorite duo and G-Unit's most prized new addition,
Mobb Deep. With the streets eagerly awaiting this mixtape, 50 Cent
puts the stamp of approval on this official G-Unit Radio mixtape full
of Mobb Deep exclusives + cameos by Alchemist, Nyce & .40 Glocc.

1 - DJ Whoo Kid Intro
2 - Prodigy feat. Tony Yayo, .40 Glocc - Murda Murda
3 - Prodigy feat. Nyce - I'm A G
4 - Mobb Deep - I Smack A Ho
5 - Young Buck feat. Spider Loc - Mr. Potato Head (Dissin' The Game)
6 - Mobb Deep - Freestye
7 - 50 Cent - I'm Not Rich And Still Lying (Dissin' The Game)
8 - Church Shooting Skit
9 - Prodigy feat. Nyce - Shot Down
10 - Mobb Deep - Keep Talkin'
11 - Prodigy feat. Nyce, .40 Glocc - Die Already
12 - Mobb Skit
13 - Mobb Deep - The Imfamous [produced by The Alchemist]
14 - Prodigy feat. Nyce - Infamous G-Unit (We On Fire)
15 - Prodigy feat. Nyce - Roll Up
16 - Mobb Deep feat. .40 Glocc - You Ain't No G
17 - Shade 45 Skit
18 - Mobb Deep feat. 50 Cent - Outta Control
19 - Outro
How To DOWNLOAD