DJ Envy - The Bad Guys Part 9: G-Unit
Submitted by mfizzel on Sat, 05/13/2006 - 7:29am.
East Coast | DJ Envy | Mixtape Torrents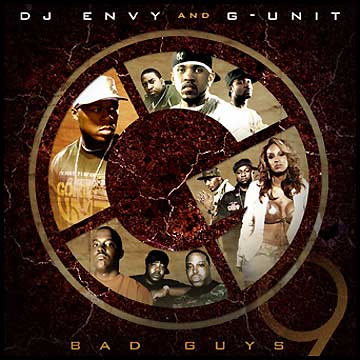 DJ Envy aka. The People's Choice brings you his infamous mixtape
series profiling the hardest 3 groups in hip-hop, The Bad Guys. This
new G-Unit edition mixtape brings you nothing but G-G-G-G-G-Unit
tracks, freestyles & remixes from the squad: Lloyd Banks, 50 Cent,
Tony Yayo, Mobb Deep, Mase, M.O.P., Young Buck and Spider Loc.

1 - Cake - Lloyd Banks feat. 50 Cent
2 - Bang Bang - Freeway feat. 50 Cent
3 - 70 Bars Of Death - Lloyd Banks
4 - Keep It On The Low - Lloyd Banks feat. 50 Cent & LL Cool J
5 - Click Click - Mobb Deep feat. Tony Yayo
6 - Got Beef - Prodigy
7 - Stole Something - Mobb Deep feat. Lloyd Banks
8 - I'm Not Rich I'm Still Tryin - 50 Cent
9 - Money In The Bank - Lil' Scrappy feat. Young Buck
10 - Give It To Me - Mobb Deep feat. Young Buck
11 - Prodigy Freestyle
12 - Touch It - Lloyd Banks
13 - Creep - Mobb Deep feat. 50 Cent
14 - Undertaker - Young Buck
15 - Horror Flick - Mobb Deep
16 - Real Bitch Boy - Young Buck & Spider Loc
17 - Prodigy Freestyle
18 - Mission - Mobb Deep
19 - You Already Know (remix) - Lloyd Banks
20 - Ain't No Thug In You - Mobb Deep
21 - I'll Whip Ya Head Boy (remix) - M.O.P.
22 - Mase Freestyle
23 - Tear It Up - Young Buck
24 - The Hustle - Mobb Deep
25 - Prodigy Feat Nyce Freestyle
26 - Rompe (remix) - Daddy Yankee feat. Lloyd Banks & Young Buck
27 - Exclusive - Avant feat. Lloyd Banks
28 - Can't Get Enough - Claudette Ortiz feat. Mase
29 - I'm In Love With You (remix) - Razah feat. Prodigy
How To DOWNLOAD