G-Unit - The Empire Strikes Back
Submitted by mfizzel on Wed, 01/04/2006 - 1:06pm.
Mixtape Directory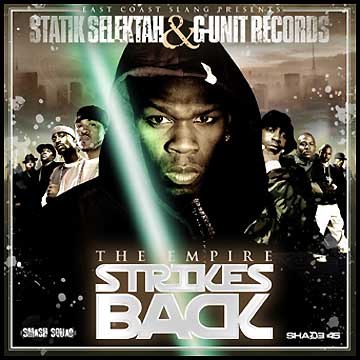 Statik Selektah treats you to a rare G-Unit-sponsored mixtape, repped
and hosted by the entire crew, including Mobb Deep, MOP, Young Buck,
Tony Yayo, Mase & Whoo Kid. With a barrage of exclusive G-Unit cuts
you've never heard (including a Biggie joint not on Duets), this isn't just
any G-Unit mixtape. This the next best thing to a G-Unit Radio mixtape.

1 - Statik Selektah Intro
2 - DJ Whoo Kid Intro
3 - 50 Cent & Notorious B.I.G. - The Grind (not on Duets album) [Statik Selektah premiere]
4 - M.O.P. & Young Buck - Who Dat [Statik Selektah premiere]
5 - Statik Selektah feat. Mobb Deep & Termanology - Every Time [Statik Selektah premiere]
6 - Mobb Deep feat. 50 Cent - I Cant Wait (Have A Party, pt. 2) [Statik Selektah premiere]
7 - Lloyd Banks, Paul Wall, & Kool G Rap - I Got It Made [Statik Selektah premiere]
8 - 50 Cent feat. Mase & Lloyd Banks - Window Shopper (remix)
9 - Cormega feat. Lil' Fame (of M.O.P.) - 718 [Statik Selektah premiere]
10 - Tony Yayo "Tearz" Freestyle [Statik Selektah premiere]
11 - Lloyd Banks - When I Was Down
12 - 50 Cent feat. M.O.P. - 50 This, 50 That [Statik Selektah premiere]
13 - Young Buck & Prodigy - Man Down
14 - Young Buck - We Killin' 'Em [Statik Selektah premiere]
15 - Young Buck & I-20 - How the Hell
16 - 50 Cent - SouthSide Gorilla-Unit
17 - Spider Loc - G-Unot Killer (Dissin' The Game)
18 - Spider Loc - Death Before Dishonor
19 - 50 Cent - Pimpin' (P.I.M.P., pt. 2)
20 - Tony Yayo - Curious (remix) [LIVE from the Bahamas] [Statik Selektah premiere]
21 - Olivia feat. Termanology - So Sexy (remix) [Statik Selektah premiere]
22 - 50 Cent - Emotional (produced by Pete Rock)
23 - 50 Cent feat. G-Unit - Stick Up (produced by Alchemist)
24 - Lloyd Banks - Whip Pussy
25 - Notorious B.I.G. feat. Mobb Deep - Beef 2006
26 - Tony Yayo, Whoo Kid & Statik Selektah Outro
How To DOWNLOAD