Big Mike - The Ruler's Back 2006
Submitted by mfizzel on Fri, 04/14/2006 - 6:47am.
Mixtape Directory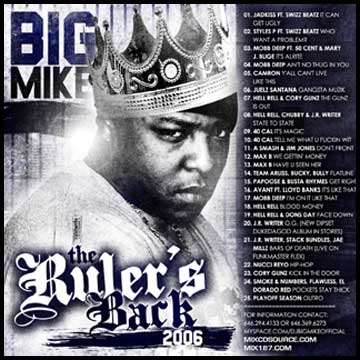 Big Mike hasn't slept in weeks. He's been busy in the lab pumping out
tapes with D-Block, Dipset, B.G., Sam Scarfo & Sin Sizzerb. Now Mike's
back on his exclusive grind, beating DJs to the punch with tracks from
Jada & Styles P, Mobb Deep, Hell Rell & Cory Gunz, Papoose, Juelz &
Cam, Busta Rhymes, Lloyd Banks, Stack Bundles, Jae Millz, Nucci R.

1 - Jadakiss feat. Swizz Beatz - It Can Get Ugly
2 - Styles P feat. Swizz Beatz - Who Want A Problem?
3 - Mobb Deep feat. 50 Cent & Mary J. Blige - It's Alright
4 - Mobb Deep - Ain't No Thug In You
5 - Cam'ron - Y'all Can't Live Like This
6 - Juelz Santana - Gangsta Muzik
7 - Hell Rell & Cory Gunz - The Gunz Is Out
8 - Hell Rell, Chubby & J.R. Writer - State to State
9 - 40 Cal - It's Magic
10 - 40 Cal - Tell Me What U Fuckin Wit
11 - A Smash & Jim Jones - Don't Front
12 - Max B - We Gettin' Money
13 - Max B - Have U Seen Her
14 - Team Arliss feat. Bucky & Bully - Flatline
15 - Papoose feat. Busta Rhymes - Get Right
16 - Avant feat. Lloyd Banks - It's Like That
17 - Mobb Deep - I'm On It Like That
18 - Hell Rell - Blood Money
19 - Hell Rell & Dons Day - Face Down
20 - J.R. Writer - O.G.
21 - J.R. Writer, Stack Bundles, Jae Millz - Bars of Death (LIVE on Funkmaster Flex)
22 - Nucci Reyo - Hip-Hop
23 - Cory Gunz - Kick In The Door
24 - Smoke & Numbers, Flawless, El Dorado Red - Pockets Stay Thick
25 - Playoff Season Outro
How To DOWNLOAD