Big Mike - The Big Boy Game 10
Submitted by mfizzel on Fri, 01/20/2006 - 7:22pm.
Mixtape Directory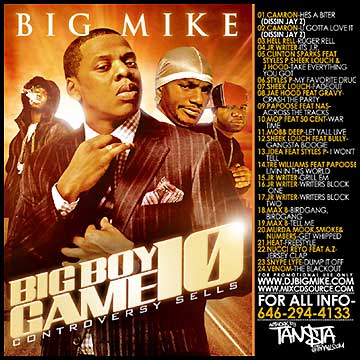 Big Mike waits for nobody and gets down to his business, believe that.
So without too much explanation, peep game on the first mix to hit the
streets with the Cam'ron vs. Jay-Z tracks (the war is on!), the D-Block
family: Sheek/J-Hood/Styles/354 , Papoose & Nas, Hell Rell, Murda
Mook, M.O.P. & 50 Cent, Gravy, Mobb Deep, Tre Williams, Nucci Reyo.

1 - Cam'ron - He's A Biter (Dissin' Jay-Z)
2 - Cam'ron - U Gotta Love It (Dissin' Jay-Z)
3 - Hell Rell - Ruger Rell
4 - J.R. Writer - It's J.R.
5 - Clinton Sparks feat. Sheek Louch, J-Hood & Styles P. - Take Everything You Got
6 - Styles P. - My Favorite Drug
7 - Sheek Louch - Fade Out
8 - J-Hood feat. Gravy - Crash The Party
9 - Papoose feat. Nas - Across The Tracks
10 - M.O.P. feat. 50 Cent - War Time
11 - Mobb Deep - Let Y'all Live
12 - Sheek Louch feat. Bully - Gangsta Boogie
13 - Jdea feat. Styles P. - I Won't Tell
14 - Tre Williams feat. Papoose - Livin' In This World
15 - J.R. Writer - Grill 'Em
16 - J.R. Writer - Writer's Block One
17 - J.R. Writer - Writer's Block Two
18 - Max B - Birdgang, Birdgang
19 - Max B - Tell Me
20 - Murda Mook & Smoke N Numbers - Get Whipped
21 - Heat Freestyle
22 - Nucci Reyo feat. AZ - Jersey Clap
23 - Snype Lyfe - Dump It Off
24 - Venom - The Blackout
How To DOWNLOAD