DJ Envy - D-Block: The Bad Guys Pt. 7
Submitted by mfizzel on Thu, 02/02/2006 - 4:52am.
Mixtape Directory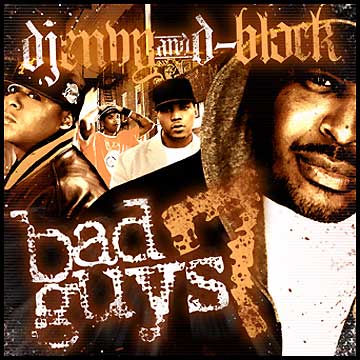 DJ Envy aka. The People's Champ gets down with D-Block once again
and he as usual he gathers up the latest joints from the crew that's from
the streets of Yonkers. This mixtape has 28 tracks and features all new
music from Sheek Louch, Jadakiss, Styles P, J-Hood, Jae Millz, Mariah
Carey, JR Writer, Fabolous, Jermaine Dupri, The Crime Family & Dwele.

1 - Take Everything - Clinton Sparks feat. Sheek Louch, Styles P & J-Hood
2 - Heard Em Say - Sheek
3 - It's All Good - J-Hood
4 - I Gets Busy - Styles P
5 - Who Run - J-Hood
6 - D.B.L.O.C.K. - Funkmaster Flex feat. Jadakiss, Styles P, Sheek & J-Hood
7 - 50 Gonna Die - J-Hood (Dissin' 50 Cent)
8 - Conceited - Sheek feat. J-Hood
9 - Bring It Back - Jae Millz feat. Jadakiss
10 - Freestyle - J-Hood
11 - I Don't Know Officer - Sheek Louch
12 - Crunk Muzik - J-Hood
13 - I'm Ready - Sheek
14 - Without My Glock Part 1 - J-Hood
15 - Freestyle - J-Hood
16 - Pain - Sheek feat. Jadakiss
17 - Without My Glock Part 2 - Styles P feat. Sheek & J-Hood
18 - Dump - J-Hood
19 - Maybe If I Sing - Sheek
20 - Favorite Drug - Styles P feat. Rashad
21 - Don't Forget About Us (remix) - DJ Clue feat. Styles P, Mariah Carey & Fabolous
22 - I Won't Tell - J-Dia feat. Styles P
23 - I Think I Love You (remix) -Dwele feat. Styles P & Jermaine Dupri
24 - Everytime - Jaheim feat. Jadakiss
25 - Make A Nigga Feel Good - Jaheim feat. Sheek & Jadakiss
26 - D-Block To North Philly - Crime Family feat. Styles P
27 - D-Set - J-Hood feat. J.R. Writer
28 - Fake Niggaz - J-Hood (Acapella)
How To DOWNLOAD