DJ Envy - The Bad Guys Part 10: D-Block
Submitted by mfizzel on Sun, 05/14/2006 - 9:59am.
East Coast | DJ Envy | Mixtape Torrents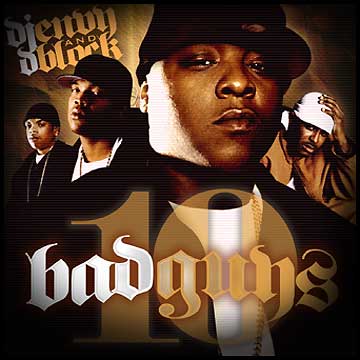 DJ Envy aka. The People's Choice brings you his infamous mixtape
series profiling the hardest 3 groups in hip-hop, The Bad Guys. This
new D-Block edition mixtape brings you down to Yonkers, "where all
them other hard niggas come from," said a certain G-Unit leader. This
mixtape features new tracks from Jadakiss, Sheek, Styles P, J-Hood.

1 - It Can Get Ugly - Jadakiss feat. Swizz Beatz
2 - Who Want A Problem - Styles P feat. Swizz Beatz
3 - Problem - Dj Khaled feat. Jadakiss & Beanie Sigel
4 - Shots Fired - Styles P feat. Jadakiss
5 - Hustlin - J-Hood
6 - Touch The Sky (Rmx) - Kanye West feat. Jadakiss, Styles P & Sheek
7 - Ms. Jackson - Jadakiss & Styles P
8 - Hitmen - Fabolous feat. Styles P, Sheek, J-Hood & Paul Cain
9 - Habits - J-Hood
10 - Go Hard - Styles P
11 - Reload - Sheek
12 - Shoot Em - Styles P feat. Team Arliss
13 - Quick 3 Piece - Styles P feat. J-Hood
14 - Nah - J-Hood
15 - Life Is A Flower - J-Hood & Gravy
16 - Get That Money - Sheek feat. Styles P
17 - J-Hood & Gravy Freestyle
18 - Gun Talk - Styles P feat. Red Cafe
19 - Bulldozer - J-Hood
20 - We On D-Block - J-Hood feat. Game
21 - We Grindin - Snyp feat. Stypes P & Maino
22 - Fiend - Jaheim feat. Styles P
23 - You Ain'T No Gangsta - J-Hood feat. Odg & Big Noyd
24 - Brush Ya Shoulders - J-Hood
How To DOWNLOAD