Big Mike - Cruel Summer 2K6 Part 2: It Ain't About The Money!
Submitted by mfizzel on Tue, 07/11/2006 - 5:53pm.
East Coast | Big Mike | Mixtape Torrents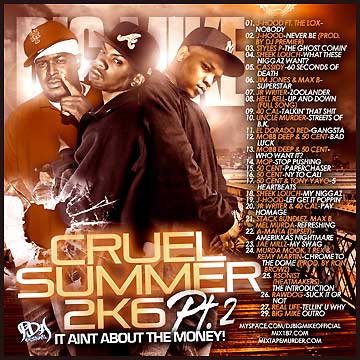 It's been a crazy Summer for Hip-Hop this year and nobody is capturing all the
new tracks quite like Connecticut's Kid Big Mike who returns with his sequel to Cruel
Summer 2K6, which is the It Ain't About The Money! edition.
This mixtape features nothing but new & exclusive Hip-Hop tracks from some of the biggest
names in the game. This also has new tracks produced by DJ Premier and Ron Browz.
Featuring all-new heat for the summer from J-Hood, Styles P, Sheek Louch, JR Writer, Hell
Rell, A-Mafia, Jim Jones & Max B, Cassidy, Uncle Murder, M.O.P., El Dorado Red, Mobb Deep
& 50 Cent.

1 - J-Hood feat. The LOX - Nobody
2 - J-Hood - Never Be (produced by DJ Premier)
3 - Styles P - The Ghost Comin
4 - Sheek Louch - What These Niggaz Want?
5 - Cassidy - 60 Seconds Of Death
6 - Jim Jones & Max B - Superstar
7 - JR Writer - Zoolander
8 - Hell Rell - Up And Down (Full Song)
9 - 40 Cal - Talkin That Shit
10 - Uncle Murder - Streets Of B. K.
11 - El Dorado Red - Gangsta
12 - Mobb Deep & 50 Cent - Bad Luck
13 - Mobb Deep & 50 Cent - Who Want It?
14 - MOP - Stop Pushing
15 - 50 Cent - Paperchaser
16 - 50 Cent - Ny To Cali
17 - 50 Cent & Tony Yayo - 5 Heartbeats
18 - Sheek Louch - My Niggaz
19 - J-Hood - Lets Get It Poppin
20 - Jr Writer & 40 Cal - Pay Homage
21 - Stack Bundlez, Max B, Mel Murda - Refreshing
22 - A-Mafia (Dipset) - Amerikkkas Nightmare
23 - Jae Millz - My Swag
24 - Murda Mook, T Rex & Remy Martin - Chrome To The Dome (produced by Ron Browz)
25 - Rsonist (Heatmakers) - The Introduction
26 - Rawdog - Suck It Or Not
27 - Real Life - Tellin U Why
28 - Big Mike Outro
How To DOWNLOAD