DJ Absolut: Pay-Per-View
Submitted by mfizzel on Sun, 01/08/2006 - 10:04pm.
Mixtape Directory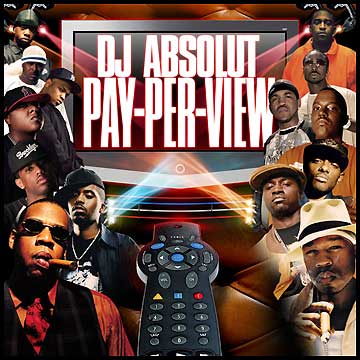 DJ Absolut, of Hot 97 and Heavy Hitters fame, puts it down live in the
mix with another hip-hop mixtape of rap's biggest heavyweights. With
24 all-new tracks & exclusive freestyles, this joint features the last of
Cassidy before he got locked up + new joints by Mobb Deep, Jay-Z w/
Nas & Ghostface, J.R. Writer, 50 Cent, Remy Martin, Grafh, Saigon...

1 - How To Make An Intro - Back At It
2 - Mobb Deep - Rap Shit 2 The Death
3 - Mobb Deep - I'm On It
4 - Jay-Z, Nas & Ghostface - Exclusive
5 - Nucci Reyo feat. J R Writer - We Can Ride (remix)
6 - J.R. Writer - Freestyle
7 - Cassidy - The Last Freestyle
8 - Cassidy - Full Surface
9 - Ghostface & Trife - Fire
10 - Mobb Deep feat. 50 Cent - The Infamous
11 - Remy Martin - Freestyle
12 - Remy Martin - Freestyle
13 - Lloyd Banks feat. Tony Yayo - My Hood
14 - Saigon & Grafh - I Aint No Joke
15 - Grafh - LIVE Freestyle
16 - AZ - Game Of Life
17 - Sheek - Sing Ya Songs
18 - 354 feat. Styles P - 4 The Family
19 - 50 Cent - Hustlers Ambition
20 - Notorious B.I.G. feat. Jay Z - What U Want
21 - Smitty feat. Lil Wayne, Twista And Swizz Beatz - Diamonds On My Neck
22 - J Maul - Freestyle
23 - Balance - Exclusive
24 - Real - New Shit
How To DOWNLOAD