P-Cutta & DNA - Takin' Da Industry By Storm Vol. 6
Submitted by mfizzel on Wed, 02/01/2006 - 11:47am.
Mixtape Directory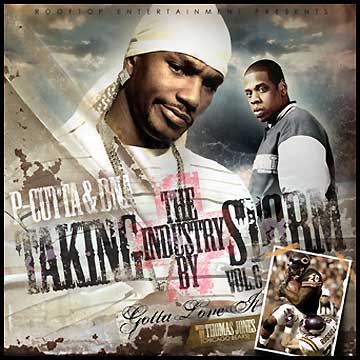 P-Cutta & DNA take you and the industry hostage on this hip-hop mix
hosted by Thomas Jones of Soldier Field fame. This mixtape features
the AZ vs. 50 Cent + Cam'ron vs. Jay-Z disses plus all-new tracks &
freestyles from Jae Millz, 50 Cent, Fabolous, The Game, Cassidy, Joe
Budden, Biggie w/ Raekwon & Ghostface, J-Hood, J.R. Writer, Grafh...

1 - T. Jones Intro
2 - Cam'ron – Gotta Love It (Dissin' Jay-Z)
3 - Jae Millz – Do Your Thing
4 - 50 Cent feat. Ryan Banks, Dirty Red, Lloyd Banks – Smile For Me
5 - Fabolous feat. Maino, Young Jeezy – Coke
6 - Notorious B.I.G. feat. Fabolous, Busta Rhymes, Snoop Dogg, Foxy Brown – Running Your Mouth
7 - Scarface feat. Beanie Sigel, The Game – Never Snitch
8 - AZ – Salute (Dissin' 50 Cent)
9 - Memphis Bleek – Freestyle
10 - Peedi Crakk feat. Gov – Bounce
11 - 50 Cent feat. M.O.P. – Wartime
12 - Cassidy – Cassidy Anthem
13 - Grafh feat. Jae Millz – Turn It Up (remix)
14 - Mobb Deep feat. Papoose – License To Kill
15 - Styles P feat. Royce 59 – Posted On The Block
16 - Joe Budden – Freestyle
17 - J.R. Writer – Grill Em
18 - Don Brody – Stop Snitching
19 - Gravy feat. J Hood – Freestyle
20 - Notorious B.I.G. feat. Raekwon & Ghostface – 3 Bricks
21 - Raekwon – Curious
22 - Christina Million feat. Young Jeezy – Say I
23 - Ghostface feat. Neyo – Like That
24 - 50 Cent feat. Olivia – Best Friend (remix)
25 - Comp feat. Notorious B.I.G. – Groupie
How To DOWNLOAD