DJ Kay Slay - Down With the King Pt. 2
Submitted by mfizzel on Thu, 01/19/2006 - 10:28am.
Mixtape Directory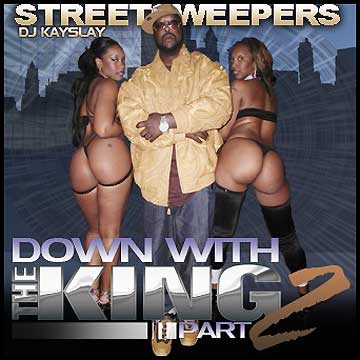 DJ Kay Slay is back in action, bringing the Drama King exclusives, plus
all-new freestyles & tracks from hip-hop's baddest artists. New hip-hop
from Papoose & Busta Rhymes/Raekwon, Cam'ron, 50 Cent & M.O.P.,
Cassidy, DMX & Swizz Beatz, Maino & Lil' Kim, Remy Martin, D-Block &
Clinton Sparks, Royce Da 5'9" & Styles P, Nas, The Game, Hell Rell...

1 - DJ Kay Slay Intro
2 - Papoose feat. Busta Rhymes & Raekwon - Address Me As Mister (remix)
3 - Cam'ron - You Gotta Love It (remix)
4 - 50 Cent feat. M.O.P. - Whip Your Head (remix)
5 - DMX feat. Swizz Beatz - Clap On
6 - Cam'ron - Oh What A Night
7 - Notorious B.I.G. feat. Ghostface & Raekwon - 3 Bricks
8 - Papoose feat. Nas - Across The Track
9 - Remy Martin feat. Ivy Queen - Bilingual
10 - Maino feat. Lil' Kim - Stomp (remix)
11 - Scarface feat. Beanie Sigel & The Game - Never Snitch (remix)
12 - M.O.P. feat. 50 Cent - War Time -
13 - Cassidy - Get On My Lean
14 - Clinton Sparks feat. D-Block - Take Everything
15 - Royce Da'59 feat. The Game - You Ain't Crazy
16 - Hell Rell Freestyle
17 - Raekwon - Curious
18 - Bleu Davinci feat. Spider Loc & 66
19 - Webbie feat. Pimp C & Lil' Boosie - Like That (remix)
20 - Royce Da'59 feat. Styles P. - Posted On The Block
21 - Tocka - Ooh Wee
22 - Jhetto & Onasis Freestyle
23 - Kayos Freestyle
How To DOWNLOAD