DJ Kay Slay - The Art Of War
Submitted by mfizzel on Sun, 04/02/2006 - 2:32am.
Mixtape Directory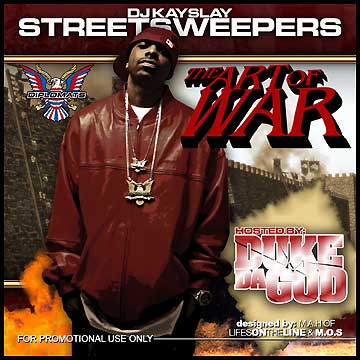 DJ Kay Slay "From Around The Way" gets down with Diplomats' A&R
Duke Da God on this new hip-hop mixtape bangin' all the exclusives.
As Duke gets ready to drop his follow-up album The Movement Moves
On he promotes this new mixtape with heat from Papoose, Dipset, LL,
Busta Rhymes/Swizz Beatz, Ghostface & Raekwon, T.I., Koopa, Grafh.

1 - Starcars Advertisement
2 - Duke Da God Intro
3 - Papoose - Faces Of Death
4 - Cam'ron feat. Hell Rell - War [from upcoming Duke Da God album]
5 - Busta Rhymes feat. Swizz Beatz - New York Shit
6 - Jim Jones - Bright Lights Big City
7 - Papoose feat. Busta Rhymes - Get Right
8 - Hell Rell feat. Cam'ron - Laughing At You [from upcoming Duke Da God album]
9 - Ghostface feat. Raekwon, Trife, Cappadonna & Sun God - Dogs Of War
10 - Jim Jones feat. Stack Bundles, Max-B & Mel Murder - New York Minute
11 - Cam'ron feat. Hell Rell - It's Nothin (remix) [from upcoming Duke Da God album]
12 - Chamillionaire feat. Papoose & Jae Millz - Riding Dirty (remix)
13 - Lil' Scrappy feat. Young Buck - Money In Da Bank
14 - T.I. feat. BG & Young Jeezy - I'm Straight
15 - LL Cool J feat. Lyfe Jennings - Freeze
16 - Busta Rhymes feat. Kelis & Will.I.Am - I Love My Bitch
17 - Jim Jones - These Nigga Gonna Die Tonite
18 - Grafh - Wildout Boyz
19 - Prinz - 40 Cali
20 - 40 Cal. - It's 40 [from upcoming Duke Da God album]
21 - Bezell Freestyle
22 - Al Capo & Tommy Gunz feat. Papoose Freestyle
23 - Outro
How To DOWNLOAD