DJ Kay Slay & Papoose - Down With The King #4: The Final Chapter
Submitted by mfizzel on Sun, 03/19/2006 - 9:58pm.
Mixtape Directory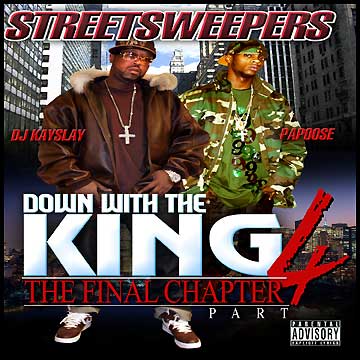 Kay Slay and his mixtape protege and fellow Streetsweeper Papoose
kick off the Final Chapter in the Drama King's hip-hop mixtape series
Down With The King with brand new music from Busta Rhymes, Mobb
Deep, Ghostface, Cam'ron & The Diplomats, M.O.P., Papoose, Kanye
West w/ Twista & Keyshia Cole, T.I. & Just Blaze, Remy Martin & more.
1 - Starcars Advertisement Intro
2 - Papoose - The Boyz In The Hood
3 - Busta Rhymes - I Think You Should Leave
4 - Mobb Deep feat. 50 Cent - Pearly Gates
5 - Cam'ron feat. Hell Rell & J.R. Writer - Grill 'Em (remix) [from Duke Da God's new album]
6 - M.O.P. feat. Mobb Deep - Know The Game - [DJ Frankie Cutlass album]
7 - Dre Robinson feat. Papoose & Jae Millz - So Cold
8 - Kanye West feat. Twista & Keyshia Cole - Impossible
9 - T.I. feat. Just Blaze - I'm Talking To You
10 - Cam'ron - White Girls [from Duke Da God's new album]
11 - Ghostface - The Champ
12 - Rah Digga - Fuck You, Pay
13 - Juelz Santana - Losing My Love [from Duke Da God's new album]
14 - DJ Kay Slay & DJ Greg Street feat. Shaq Diesel, Papoose & Bun B - Can't Stop The Reign 2006
15 - Remy Martin feat. Neo - Feels So Good
16 - Prinz (Blackhand Ent.) - The Promise
17 - Ghostface - Shakey Dog
18 - Spliff Star - Don't Act Up
19 - Three 6 Mafia feat. DMX & Lil' Flip - Poppin' My Collar (remix)
20 - Lil' Flip feat. Bun B & Pimp C - Youz A Trick (remix)
21 - Pimp C feat. Mike Jones & Bun B - Pouring Up
22 - Labba - You Haters
23 - Outro
How To DOWNLOAD