DJ Kay Slay & Papoose: Boyz In The Hood
Submitted by mfizzel on Mon, 05/01/2006 - 6:08am.
Mixtape Directory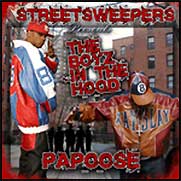 The Drama King DJ Kay Slay is back with the NYC mixtape MVP and
Streetsweeper Prince, Papoose on his 11th official mixtape. If you've
not yet filled yourself in, these mixtapes play more like real albums due
to the exclusive material created for each project. This time around the
Brooklyn bad boy tears down another 20+ tracks & freestyles alongside
friends Green Lantern, Swizz Beats, J-Dilla, Scott Storch, D. Dot & more.

1 - DJ Kay Slay & Papoose Intro
2 - Now Or Never (produced by E-Dubb)
3 - The Boyz In The Hood (produced by DJ Kay Slay)
4 - Never Had A Bangout (produced by Frankie Cutlass)
5 - Russian Roulette (produced by DJ Kay Slay)
6 - Law Library Part 2 (produced by Reef)
7 - New Jack Stickup Kids Interlude
8 - Robbery Song (produced by DJ Green Lantern)
9 - Faces Of Death (produced by The Dream Team & DJ Kay Slay)
10 - Get Right feat. Busta Rhymes (produced by Swizz Beatz)
11 - Conceited (remix) feat. Remy Martin, Lil' Wayne & Trina (produced by Scott Storch)
12 - What You Know About Pap (produced by Toomp)
13 - Ridin' (remix) feat. Chamillionaire & Jae Millz (produced by Play-N-Skillz)
14 - Psycho feat. Busta Rhymes & Cassidy (produced by J-Dilla)
15 - Yeah That's Us feat. Thug-A-Cation (produced by E-Dubb)
16 - The Jacket Kings Interlude
17 - DJ Kay Slay & Gregstreet feat. Shaq Diesel, Papoose & Bun-B - Can't Stop The Reign 2006
18 - Where You At feat. Joe (produced by Steve Garret)
19 - Gonna Make A Change (produced by DJ Kay Slay)
20 - Play Ya Cards Right (produced by DJ Kay Slay)
21 - Be So Cold feat. Dre Robinson & Jae Millz (produced by Marcus DL)
22 - Juks feat. Labba & Busta Rhymes (produced by D. Dot)
23 - Crowded feat. Jeanie Ortega (produced by Stargate)
24 - DJ Kay Slay & Papoose Outro
How To DOWNLOAD