DJ Kay Slay & Papoose - Menace II Society 2
Submitted by mfizzel on Tue, 12/20/2005 - 7:12pm.
Mixtape Directory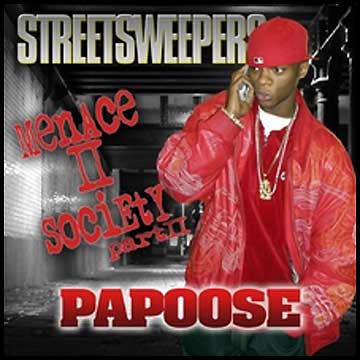 DJ Kay Slay is back with his right-hand man Papoose, kickin' in doors
with the Bedstuy, Brooklyn mixtape murderer. Back with another jewel
for the streets, The Drama King's protege is back with another official
underground mixtape, sptting fire over new tracks and freestyles with
Jadakiss & D-Block, Blac Rob, Green Lantern, Remy Martin, Hell Rell.
1 - DJ Kay Slay & Papoose Intro
2 - Menace To Society Part 2 (produced by DJ Kay Slay)
3 - Flashback (produced by Thug-A-Cation)
4 - You Made Your Choice (produced by DJ Kay Slay)
5 - Raised With Them Gangstaz feat. Jadakiss, Styles P, McGruff, Sheek Louch, Black Rob & Razah
6 - The Hardest Out feat. Hell Rell & Remy Martin (produced by Amadeus)
7 - Fashion Statement (produced by N-Tellect)
8 - Interlude (You Know You Done Fucked Up)
9 - Street Rules (produced by DJ Green Lantern)
10 - Hummin' Like A Slave
11 - New Era (produced by Ron Browz)
12 - You Can't Ride Like Me feat. Funkmaster Flex (produced by Emile)
13 - Lyrical Murder feat. Thug-A-Cation
14 - Interlude (Tat Tat Wut The Fuck Man)
15 - Touch The Sky (produced by Bink)
16 - The Beast feat. Talib Kweli (produced by Keezo)
BONUS TRACKS
17 - License To Kill (produced by DJ Green Lantern)
18 - Outro (DJ Kay Slay Answering Machine)
How To DOWNLOAD