DJ Kay Slay - Papoose: A Threat & A Promise
Submitted by mfizzel on Fri, 02/03/2006 - 6:52am.
Mixtape Directory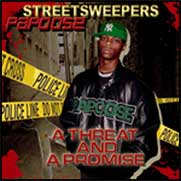 Kay Slay and apprentice Papoose did about 10 solo mixtapes, but now
these cats are going next level: mixtape albums. Declaring "My mixtapes
are like albums," Pap gets back on his grizzly and bangs out this all-new
joint w/ huge cameos from Nas, Mary J Blige, Busta Rhymes, Juvenile,
Mobb Deep, Stat Quo, Just Blaze, Swizz Beats, Green Lantern, Scram J.

1 - DJ Kay Slay & Papoose Intro
2 - Law Library (produced by E-Dubb)
3 - Brooklyn Stand Up (produced by Havoc)
4 - A Threat And A Promise (produced by Charlemagne & Steve King)
5 - Across The Track feat. Nas (produced by Swizz Beats)
6 - No Way Out feat. Mary J. Blige (produced by Just Blaze)
7 - Love Is A Battlefield (produced by DJ Kay Slay)
8 - Busta Rhymes & DJ Kay Slay - Interlude (Live On Hot97)
9 - Address Me As Mister feat. Busta Rhymes (produced by Scram Jones)
10 - Touch It (remix) feat. Busta Rhymes, Lloyd Banks, DMX, Mary J. Blige, Rah Digga & Missy Elliot
11 - Superfly (produced by DJ Kay Slay)
12 - License To Kill (remix) feat. Mobb Deep (produced by DJ Green Lantern)
13 - Shots Fired feat. Bump J & Stat Quo (produced by Stay Gettin')
14 - What's Happening (remix) feat. Juvenile & Jae Millz (produced by Sinister)
15 - Busta Rhymes & DJ Kay Slay - Interlude (Live On Hot97)
16 - Prophecy feat. Ron Isley (produced by DJ Kay Slay)
17 - Dear Momma feat. Kanye West & Tre Williams
18 - Broken Dreams feat. Tre Williams (produced by Big Dubez)
19 - How Many Shots feat. Thug-A-Cation (produced by E-Dubb)
20 - Dangerous feat. Wicked (produced by N-Tellect)
BONUS TRACKS
21 - Address Me As Mister (remix) feat. Busta Rhymes & Raekwon (produced by Swizz Beats)
22 - Flashback feat. Marvin Gaye (produced by Otis)
23 - DJ Kay Slay Outro
How To DOWNLOAD