DJ Kay Slay & DJ Green Lantern - On My New York Shit
Submitted by mfizzel on Wed, 05/24/2006 - 4:35am.
East Coast | DJ Kay Slay | Mixtape Torrents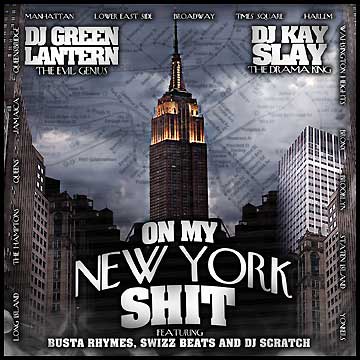 Mr. NY Busta Rhymes joins NY's mixtape icons DJ Green Lantern &
Kay Slay get on their 'New York Shit' with the help of Swizz Beats & DJ
Scratch. Breaking records by artists all around the Empire City, this CD
brings you all-new NY sh*t from Busta & Nas (w/ Hi-Tek!), Papoose, Tru
Life, Lloyd Banks & Timbo, Styles P, Ghost/Rae/Kool G/Big Daddy/Lord
Tariq, Jim Jones, Remy Ma, Jae Millz, Stack Bundles, Maino, Cory Gunz.

1 - Intro
2 - Busta Rhymes Speaks
3 - Papoose - Out In NY (produced by DJ Green Lantern)
4 - Busta Rhymes & Nas - Rough Around The Edges (produced by Hi-Tek)
5 - Jim Jones Freestyle
6 - Remy Ma - Banned From NY
7 - Lloyd Banks - My House (produced by Timbaland)
8 - Styles P., Fat Joe, Wyclef, Snyplife - The Way We Get Down (produced by DJ Green Lantern)
9 - Swizz Beats Interlude
10 - DJ Kay Slay Feat. Ghostface, Raekwon, Kool G. Rap, Big Daddy Kane, Lord Tariq - Five Deadly Venoms
11 - Busta Rhymes Speaks
12 - Tru Life Feat. Akon - Ride Out (produced by DJ Green Lantern)
13 - Swizz Beats Speaks
14 - Prinz (Blackhand Ent.) - In New York
15 - Busta Rhymes Speaks
16 - Red Café - Cook It Up & Serve 'Em
17 - J.R. Writer - Dipset NY
18 - Jae Millz - Uptown (produced by DJ Green Lantern)
19 - Swizz Beats Speaks
20 - Cory Gunz - BX Borough
21 - Hell Rell - Fuck Around
22 - DJ Scratch Speaks
23 - Uncle Murda - Murdera! (produced by DJ Green Lantern)
24 - Busta Rhymes - Definition Of New York Interlude
25 - Stack Bundles, Maino, Jae Millz, Cory Gunz - New York (produced by DJ Green Lantern)
26 - Mike Beck Feat. Fat Joe, Tony Sunshine - Where We From
27 - Maino - Bed Stuy Anthem (produced by Scram Jones)
28 - Grafh (Blackhand Ent.) - Tryin' To Rep
29 - Stack Bundles - Violence
30 - Joell Ortiz - Ill Street Blues Freestyle
31 - Busta Rhymes Speaks
32 - Flawless - Click Clack
33 - Busta Rhymes Feat. Swizz Beats - New York Shit (produced by DJ Scratch)
How To DOWNLOAD