DJ Radio - Mr. Sold Out Part 6
Submitted by mfizzel on Fri, 04/14/2006 - 6:38am.
Mixtape Directory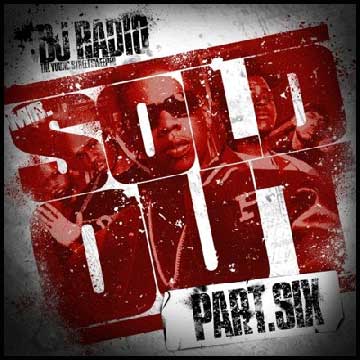 DJ Radio aka. Mr. Sold Out is on some exclusive hip-hop sh*t as he
gives you that Streetsweepers swagger and gang of new hip-hop flavor
from Jay-Z, The Diplomats, Papoose, Fabolous, AZ, Busta Rhymes, TI,
Mobb Deep & Sizzla (prod. by Dre!!!), Ghostface & Just Blazem Styles P,
Stack Bundles & Corey Gunz, Main-O & Lil' Kim, Koopa/Jae Millz, Bun-B.

1 - Intro
2 - Heat Freestyle
3 - Nucci Reyo feat. AZ, Flawless Freestyle
4 - Busta Rhymes feat. Swizz Beats - New York Shit
5 - Jay-Z feat. Nancy Sinatra - I Used To (produced by Oddz N Endz)
6 - Diplomats feat. SAS, JR Writer – I'm Reloaded
7 - Mobb Deep feat. Sizzla - System (produced by Dr. Dre)
8 - Juelz Santana feat. Jim Jones, Razah - Krack remix
9 - Main-O feat. Lil Kim - Stomp remix
10 - Papoose - Boyz In Tha Hood
11 - The Game - Fire In Ya Eyez
12 - Jae Millz Freestyle
13 - Killa Klump - Busta My Gun Freestyle
14 - Fabolous - Getcha Money Freestyle
15 - Chamillionaire feat. Jae Millz, Papooose - Ridin Dirty (East Coast remix)
16 - Lil Scrappy feat. Young Buck - Money In Da Bank
17 - T.I. – I'm Talkin To You (produced by Just Blaze)
18 - Yo Gotti feat. Young Buck, Bun B - Gangsta Party remix
19 - Cam'ron - White Girl
20 - Tocka - Ooh Wee
21 - Ghostface - The Champ (produced by Just Blaze)
22 - Eldorado Red - Murdered
23 - Styles P feat. Team Arliss - Shoot Em Up
24 - Mic Braggz - I Believe
25 - Diplomats feat. J.R. Writer - Get Ready For Me
26 - Stack Bundles feat. Jae Millz, Corey Gunz, Main-O - New York (produced by Green Lantern)
27 - Mic Scholars - Musik (produced by Skarr Akbar)
28 - Mobb Deep feat. 50 Cent - Pearl Gates
29 - Obie Trice feat. Akon – Snitch
How To DOWNLOAD