DJ Kay Slay: Look Both Ways Before You Cross Me (Hosted by Jim Jones)
Submitted by mfizzel on Mon, 01/09/2006 - 11:18am.
Mixtape Directory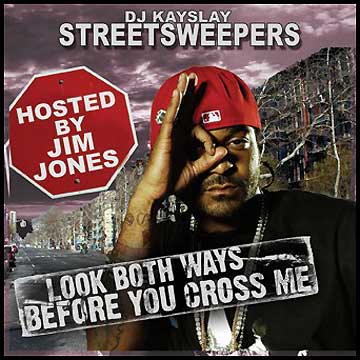 DJ Kay Slay goes straight gangsta with his peoples Jim Jones of the
mighty Diplomats crew. Breaking in more than 20 new street anthems &
exclusive freestyles, The Drama King and Dipset's Capo bring new heat
from Papoose & Mobb Deep, Raekwon & Busta Rhymes, The Diplomats,
Cassidy, Stack Bundles, Memphis Bleek, Too Short, Ghostface & more.

1 - Jim Jones Intro
2 - Papoose - A Threat & A Promise
3 - Jim Jones - To High To Get Over
4 - Raekwon feat. Busta Rhymes - State Of Grace (remix)
5 - Papoose feat. Mobb Deep - License To Kill (remix)
6 - Ghostface feat. Ne-Yo - Back Like That
7 - DJ Kay Slay feat. Cam'ron, Jim Jones & Juelz Santana - Drama Gang
8 - Jim Jones feat. Stack Bundles & Max B - Cold Rockin'
9 - Jim Jones - Love Of My Life
10 - Cassidy - Cassidy (The Anthem)
11 - Prinz - Gun Talk
12 - Raekwon - No Joke
13 - Jim Jones feat. Mel Matrix - New York City Boyz
14 - Max B - Money Ain't A Thing
15 - Memphis Bleek - What It Do
16 - Busta Rhymes feat. Spliff Starr - The Crown
17 - Bleu Davinci feat. Fabolous & Young Jeezy - Streets On Lock
18 - Ghostface feat. Trife The God - Playing With Fire
19 - Mobb Deep feat. Too Short & Murda One - Keep It Real
20 - Craig Mack - You & Me
21 - Kayos feat. Papoose Freestyle
22 - Jhetto & Onasis Freestyle
23 - Magg 1 Freestyle
24 - Jim Jones Outro
How To DOWNLOAD