Team Invasion - In Tha Kitchen (Hosted By DJ Green Lantern & DJ Khaled)
Submitted by mfizzel on Wed, 05/31/2006 - 6:08am.
East Coast | Team Invasion | Mixtape Torrents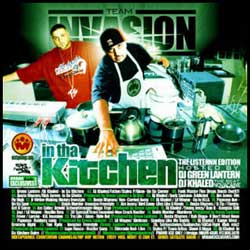 Team Invasion is back on their mixtape grind, and this time they're
joined by mixtape legends DJ Green Lantern and DJ Khaled as they
invade the city with brand new music. This joint features exclusives &
new tracks from Fat Joe & Styles P, Busta Rhymes and Rick James
(beat by Green & Dr. Dre!), Lupe Fiasco, Jim Jones, Papoose, Jay-Z &
Weezy, Ice Cube & Arnold Schwarzenegger, Jeezy & Bun B and Tru Life.

1 - DJ Green Lantern, DJ Khaled - In Da Kitchen
2 - DJ Khaled, Fat Joe, Styles P., Akon - On Da Corner
3 - Funkmaster Flex Drops Bomb (Hot 97)
4 - Busta Rhymes, Rick James - In Da Ghetto (produced by DJ Green Lantern & Dr. Dre)
5 - DJ Khaled, Juelz Santana - Addicted
6 - Jim Jones - We Fly High
7 - J.R. Writer - Making History Freestyle
8 - Busta Rhymes, Nas - Rough Around The Edges
9 - DJ Khaled, Lil' Wayne - Up In M.I.A.
10 - Papoose - Live On Da Spot (Invasion Radio)
11 - Uncle Murder - Invasion Freestyle
12 - Jim Jones, Byrd Gang - Life's Like A Movie
13 - Busta Rhymes, Q-Tip, Floetry - Get You Some
14 - Ice Cube, Arnold Schawrtznager - Nigga Trap (produced by DJ Green Lantern)
15 - DJ Khaled, Young Jeezy, Bun B - Gangsta Shit
16 - Jay-Z, Lil' Wayne - Hustlin' (remix)
17 - 38 Special - New Crack Hustler
18 - Uncle Murder - Murderer
19 - Fever, Larcan - U.N. Invasion
20 - Tru Life, Akon - Ride Out (produced by DJ Green Lantern)
21 - Busta Rhymes, Rah Digga - U Don't Want None
22 - Papoose - Robbery Song (produced by DJ Green Lantern)
23 - Lil' Wayne, Birdman - Stuntin' Like My Daddy
24 - DJ Khaled, Kanye West - Grammy Night
25 - Yun Kyda - Invasion Freestyle
26 - Serious Jones, Avalanche, 40 Cal. - Fight Klub At MTV2 (produced by DJ Green Lantern)
27 - Lupe Fiasco - Hustler Song
28 - El Dorado Red - I Am
29 - Styles P., Team Arliss - Shoot A Nigga
30 - DJ Khaled - In Da Kitchen Outro
How To DOWNLOAD