Team Invasion (Hosted By Jim Jones & Max B) - Hood Rules Apply #4: Kick-Door Invasion
Submitted by mfizzel on Mon, 07/17/2006 - 6:58pm.
East Coast | Team Invasion | Mixtape Torrents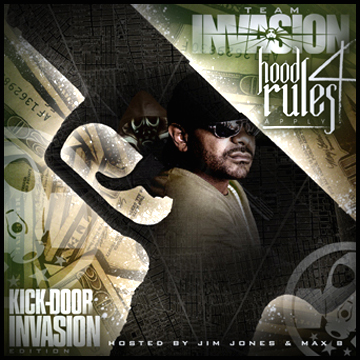 Team Invasion is back on their mixtape sh*t, this time enlisting the help
of Dipset's own Jim Jones and Max B. The Byrdgang crew show the Invasion camp
how they run things in Harlem world, with this CD chock full of skits,
freestyles, and exclusives.
Featuring production & remixes by DJ Green Lantern, as well as cameos by Lil'
Wayne, Fat Joe, Jay-Z, Papoose, Ludacris, JR Writer, Juelz Santana, Paul Wall,
Akon, Freeway, Nina Sky, Rick Ross, Fabolous, and more.

1 - **Jim Jones/ Max B Intro**
2 - Uncle Murder - Kick Door Invasion (Produced by Green Lantern)
3 - Jim Jones/ Lil Wayne -Downfall (Green Lantern mix)
4 - Fat Joe - Clap N Revolve
5 - Freeway/Jay Z - World War III
6 - Papoose - Publicity Stunt
7 - Ludacris - Tell It How It Is
8 - Jr Writer - Who Else But Me
9 - Uncle Murder - Hood Rules Apply (Produced by Green Lantern)
10 - **Jim Jones/Max B Hood Rule skit**
11 - Max B - Don Perion
12 - Jim Jones / Byrdgang - Fucks Wit You
13 - Lil Wayne/ Juelz Santana - Showdown Time (Green Lantern mix)
14 - Paul Wall / Fat Joe - Sound Of Da Mac (Green Lantern mix)
15 - Uncle Murder / Akon - Murderer Rmx (Produced by Green Lantern)
16 - Larcen/ Fever - Get It Boy
17 - Max B - Rockstar
18 - Nina Sky / Rick Ross - Flippin Dat
19 - Fabolous - Mo Cars
20 - Sleep Hollow Tips - Beautiful Mind
21 - Yun Kyda - Bake A Brick (GL Instrumental)
22 - Dot - Invasion Freestyle (GL Instrumental)
23 - Infared - What Would U Do
24 - Remo - Just Say No
25 - Jinx Da Juvy - Hustlers Boosters Anthem
26 - Legacy - Street Rules (GL Instrumental)
27 - 38 Special - My Life
28 - V.I.P- Untouchable
How To DOWNLOAD