P-Cutta - Street Wars #15 (Mania)
Submitted by mfizzel on Thu, 05/04/2006 - 8:31pm.
East Coast | P-Cutta | Mixtape Torrents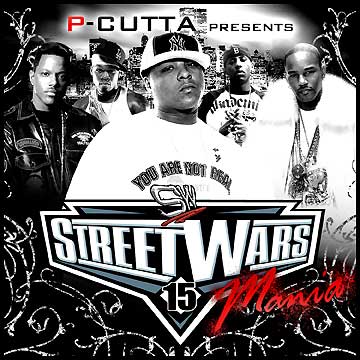 P-Cutta always has the his ear to the streets, especially when it comes
to the battles and beef, and he drops the 15th edition of this major beef
mixtape series, which features all the latest beef from some of hip-hop's
heavyweights, including Sheek Louch vs. 50 Cent, Cam'ron vs. Jay-Z,
Mase vs. Loon/Fabolous/The Diplomats, Young Buck/Spider Loc/G-Unit
vs. The Game, Tony Yayo vs. Jadakiss, J.R. Writer vs. Memphis Bleek.

Group Team Mos
1 - Ryan Banks – SW 14.5 Intro
2 - Beanie Sigel feat. Jadakiss – Problem (produced by DJ Khaled)
3 - Cam'ron Speaks vs. Nas, Jay-Z
4 - Hell Rell feat. Cam'ron – Laughin At You (Dissin' Jay-Z, Bleek)
5 - 50 Cent feat. G-Unit – It Don't Bother Me (Dissin' A lot of People)
6 - Fabolous feat. Paul Cain – Murda (Dissin' Mase)
7 - Styles P feat. Jadakiss – Shots Fired (Dissin' 50 Cent)
8 - 50 Cent Speaks vs. Game (Live In UK)
9 - Jadakiss Speaks vs. 50 Cent
10 - Jadakiss feat. Styles P – Sorry Ms. Jackson (Dissin' 50 Cent)
11 - 50 Cent – Not Rich and Still Lyin' (Dissin' Game)
12 - The Game – All 4 Sale (Dissin' G-Unit)
13 - Young Buck feat. Spider Loc – Where I'm From (Dissin' Game)
14 - J.R. Writer – Suit Up (Dissin' Mase & G-Unit)
15 - Cam'ron – Gotta Love It (Dissin' Jay-Z)
16 - Cam'ron – Bad Boy Radio Interview (Dissin' Jay-Z)
17 - Sheek Louch – Heard Em Say (Dissin' 50 Cent)
18 - Tony Yayo – Got That Fire (Dissin' Jadakiss)
19 - Loon – Take It Easy (Dissin' Mase)
20 - Mase – 10 Years Of Hate (Dissin' Loon & Fabolous)
21 - J.R. Writer – Serious Business (Dissin' Memphis Bleek)
22 - Cam'ron & J.R. Writer Speaks vs. Jay-Z
23 - Jay-Z – I'm A Biter
24 - Cam'ron – Swagger Jacker
25 - Mullyman – Ready (Dissin' Bossman)
26 - Bossman – Homicide (Dissin' Mullyman)
27 - Ankh Amen Ra feat. Illinoise – Ya'll Ain't Gangsta (Dissin' The Industry)
How To DOWNLOAD