Big Mike - Game Time 2006 (Hosted By Ron Artest)
Submitted by mfizzel on Tue, 04/25/2006 - 5:17pm.
East Coast | Big Mike | Mixtape Torrents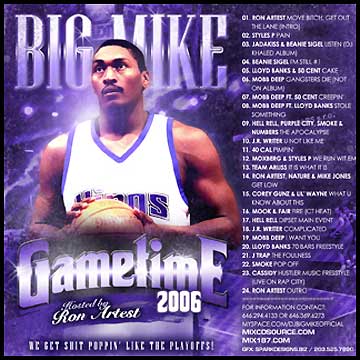 Big Mike hooks up with Sacramento Kings' superstar Ron Artest to ball
out on some Playoff sh*t for his latest hip-hop mixtape. Packing all-new
heat and exclusives from Styles P, Lloyd Banks & 50 Cent, Mobb Deep
(four new tracks), Corey Gunz & Lil' Wayne, Beanie Sigel, Jadakiss, JR
Writer, Cassidy, Hell Rell, Purple City, Team Arliss, Nature/Mike Jones.

1 - Ron Artest - Move Bitch, Get Out The Lane (Intro)
2 - Styles P - Pain
3 - Jadakiss & Beanie Sigel - Listen (off new DJ Khaled album)
4 - Beanie Sigel - I'm Still #1
5 - Lloyd Banks & 50 Cent - Cake
6 - Mobb Deep - Gangsters Die
7 - Mobb Deep ft. 50 Cent - Creepin'
8 - Mobb Deep ft. Lloyd Banks - Stole Something
9 - Hell Rell, Purple City, Smoke & Numbers - The Apocalypse
10 - J.R. Writer - U Not Like Me
11 - 40 Cal - Pimpin'
12 - Moxberg & Styles P - We Run Wit 'Em
13 - Team Arliss - It Is What It Is
14 - Ron Artest, Nature & Mike Jones - Get Low
15 - Corey Gunz & Lil' Wayne - What U Know About This
16 - Mook & Fair - Fire (Connecticut Heat)
17 - Hell Rell - Dipset Main Event
18 - J.R. Writer - Complicated
19 - Mobb Deep - I Want You
20 - Lloyd Banks - 70 Bars Freestyle
21 - J Trap - The Foulness
22 - Smoke - Pop Off
23 - Cassidy - Hustler Music Freestyle (Rap City)
24 - Ron Artest Outro
How To DOWNLOAD