Big Mike & Hi-Tek - This Is Why I'm Hot Part 3
Submitted by method187 on Wed, 10/04/2006 - 4:19am.
East Coast | Big Mike | Mixtape Torrents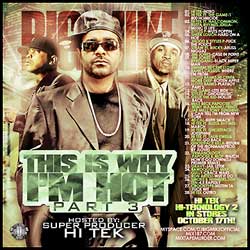 Big Mike is on a tear and there ain't no
stopping him. Back with another
exclusives-filled mixtape of hip-hop heat and
industry premieres, Mike proves he's hot
alongside Hi-Tek, the platinum superproducer.
With a new Hi-Tek mixtape on the way
(featuring Big Mike & Clinton Sparks), this is
the third edition of This Is Why I'm Hot.
Featuring new music from Hi-Tek w/ The Game,
Nas, Busta Rhymes, Common, Styles P, Jim
Jones, Lloyd Banks, 50 Cent, Mobb Deep, 40
Cal, Talib Kweli, Ghostface and more.

1 - Hi-Tek Intro
2 - Hi-Tek feat. The Game - 1-800-Homicide
3 - Hi-Tek feat. Nas, Common, Busta Rhymes - Music Is Life
4 - Styles P - What's Poppin'
5 - Shek Louch - Hard On A Hoe
6 - J-Hood & Styles P - Fuck The Police
7 - Straw & Bucky - Arliss Niggas
8 - Jim Jones - Case In Point
9 - Jim Jones feat. Byrdgang - Black Super Man
10 - 50 Cent, Lloyd Banks & Cassius - Where I'm From
11 - Lloyd Banks feat. 50 Cent & Mobb Deep - Rotten Apple
12 - Lloyd Banks - Playboy pt. 2
13 - The Game - Let's Ride
14 - Styles P - Ghost Music
15 - Gillie Da Kid - Holler Back
16 - Mik Beck, Papoose, Remy Martin, Maino, Prinz, Jae Millz & Tony Sunshine - U Can Tell I'm From New York
17 - 40 Cal - Kuffi Smack
18 - Hi-Tek feat. Busta Rhymes - March
19 - Hi-Tek feat. Ghostface - Joesephi
20 - Hi-Tek feat. Talib Kweli & Ayak - Go Black
21 - Ghostfae Killah - Return of the Ironman [produced by J-Love]
22 - Termanology feat. Papoose & Lil Fame (of M.O.P.) - Watch How It Go Down (DJ Premier remix)
23 - Gravy - Jail Letter
24 - Rawdoggs feat. Mike Gully - Crack Wars
25 - Ron Artest - Wut It Do
26 - Smoke & Numbers feat. Den TTN - 4,5 Rapidly
27 - Crook Type - Nuttin' To Fuck With
28 - Hi-Tek Outro
How To DOWNLOAD